Earlier in the year, as we began to emerge from the horrors of lockdown, I wanted some things to look forward to, so had a look to see what bands were touring in the near future. Much to my delight, I discovered that The Human League were hitting the road, and I made sure to get hold of a ticket. They performed at The Hydro in Glasgow last Thursday (9th December), and it was an amazing night, so I thought it deserved a comprehensive review.
The tour was to commemorate the 40th anniversary of the release of "Dare", their third album, which shot them to stratospheric fame. Four singles were released from it, including "Don't You Want Me?" which was the Christmas number one in 1981, going on to sell more than one and a half million copies in the UK.
Publicity for the tour revealed that the band would perform the album in its entirety, which was an exciting prospect. My first memory of it was from very soon after its release. I was only seven years old at the time, but my sister was fifteen, and a huge fan of the many synth bands prominent at the time. She bought it not long after its release, and I can clearly remember both the striking, futuristic imagery on the sleeve, and the fantastic sound of the songs. The whole thing oozed glamour and sophistication. It's a distinctive product of its time, but it's aged phenomenally well. I don't know what happened to my sister's copy of the album, but I own a vinyl copy myself, acquired from a charity shop in around 2006, at a time when I didn't have either a record player or a vinyl collection. My plan was to sell it for a profit on eBay, but it turned out not to be fetching very good prices, so I kept it, and it lay forgotten somewhat until I got a record player and started properly collecting vinyl in 2015. Since then, it's become a firm favourite again.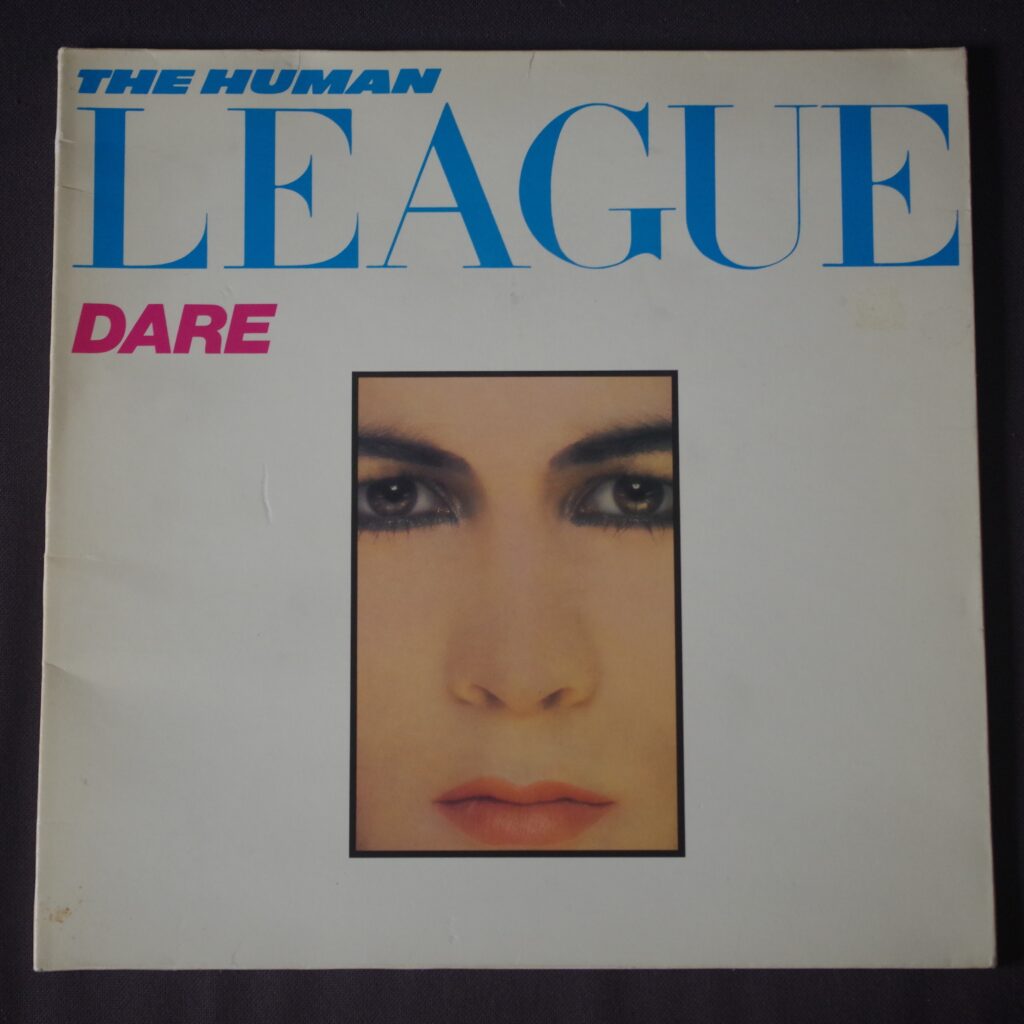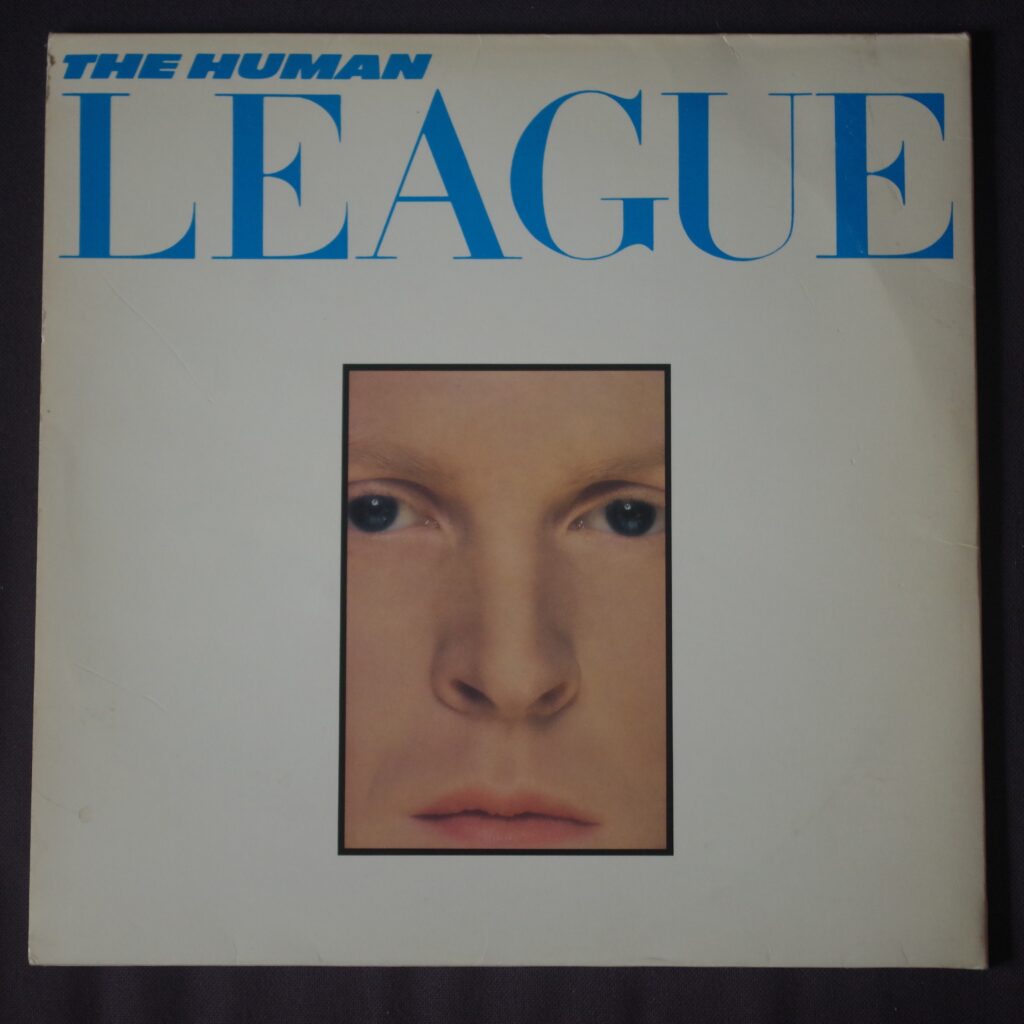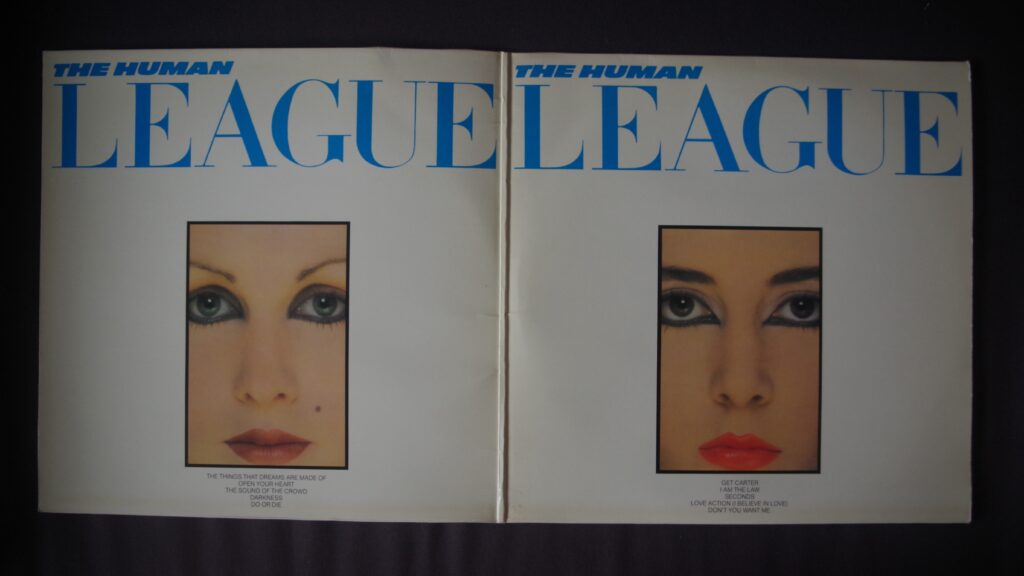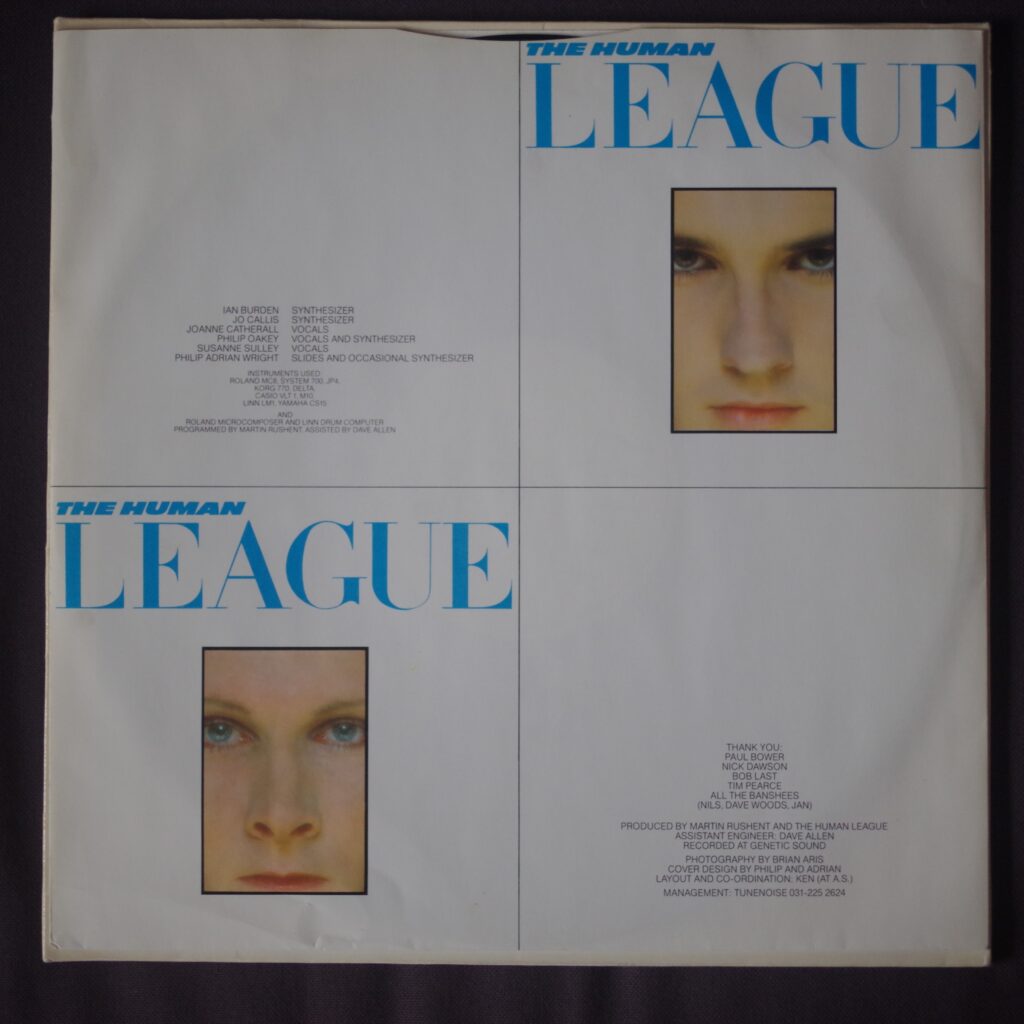 The Human League started off as an all-male four-piece, but immediately before going on tour in 1980, a row between band members resulted in Martyn Ware and Ian Craig Marsh walking out (they later formed Heaven 17). This left lead singer Phil Oakey facing a crisis – if he didn't replace the missing members within a week, he'd be forced to default on the band's tour commitments, and he'd face financial ruin. He found teenagers Joanne Catherall and Susan Ann Sulley dancing in a Sheffield club, and recruited them, taking them on tour and saving the band – but also taking it in a completely new direction. Dare was very different to the band's previous two albums, and was much more commercially friendly, but it also represented the peak of their fame. There were plenty more hits in the band yet, but none of them were as big as these. I'll go on to discuss the songs later, as I review the live performance.
Nowadays, the band consists of Oakey, Sulley and Catherall supported by session musicians on tour, and they still draw big crowds, as evidenced by the venues they manage to fill. I've not been the happiest person of late, with all the pandemic woes making me reluctant to go out, so I almost bailed out on this concert – but I decided I'd actually go right at the last minute. Having had the best night I've had in ages, I'm so glad I went! Read on…
On arrival at the venue, I was early enough to get a spot right at the front of the standing area, just to the right of the centre. Excellent! I love a good view, and I love the atmosphere of standing. The Hydro has a huge seated area, and being right at the back is honestly pretty rubbish in there.
There were two support acts, one of which came as a very welcome surprise as I'd not heard they were playing. First up was Altered Images, the new-wave band fronted by vocalist Clare Grogan. She is, of course, a Glaswegian, so she got a rapturous welcome from her home crowd. She's the only original member of the band in the lineup she currently performs with, but their set sounded great, and launched the evening in fine style. They performed eight songs, including the band's biggest hits – "I Could Be Happy", "See Those Eyes", "Happy Birthday" and – a particular favourite of mine – "Don't Talk To Me About Love", which I think is a real gem of the era. They also performed "That's Not My Name", a cover of The Ting Tings song. All very good – I've always liked Clare Grogan, and I wasn't disappointed.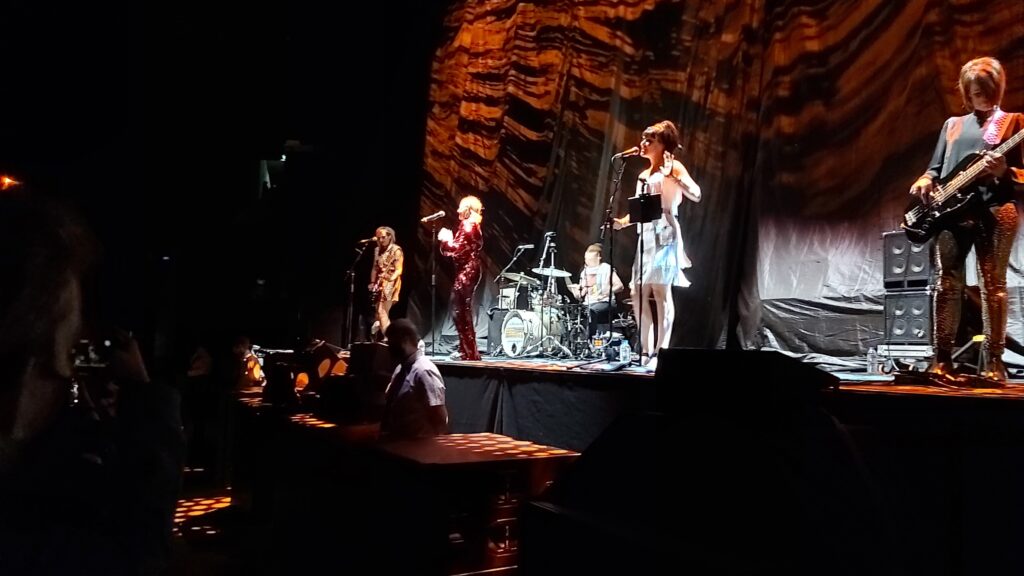 Next up came the unexpected surprise – I knew Altered Images were playing, but I didn't know Tom Bailey was next on the bill. He was the former lead singer of The Thompson Twins, and now performs their songs with a new all-female band. What an unexpected treat! I was particularly happy when he opened with "Love On Your Side", my favourite Thompson Twins track. The band were very slick, and it sounded brilliant. Plenty of other hits followed, including "You Take Me Up", "Doctor! Doctor!" and "Hold Me Now", and the set also contained "Psycho Killer", the Talking Heads song.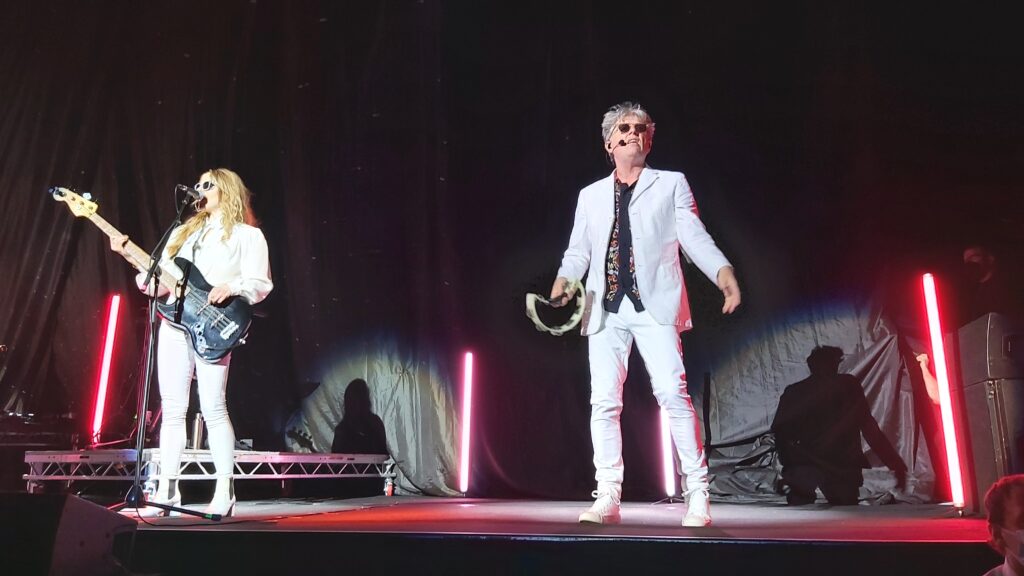 Then, after a short break, came the main event.
The curtain rose to reveal a multi-level stage set that resembled an Escher painting – lots of steps. The band was on platforms at the back, and as the intro to "Mirror Man" began, Catherall and Sulley descended steps to take their places at the front. Oakey appeared at the back, and started very much as he meant to go on – putting in energetic and passionate performances, with lots of movement. It seemed de rigeur to be quite morose if you were in a synth band of that era, but Oakey was an expressive and charismatic frontman, with his voice on superb form.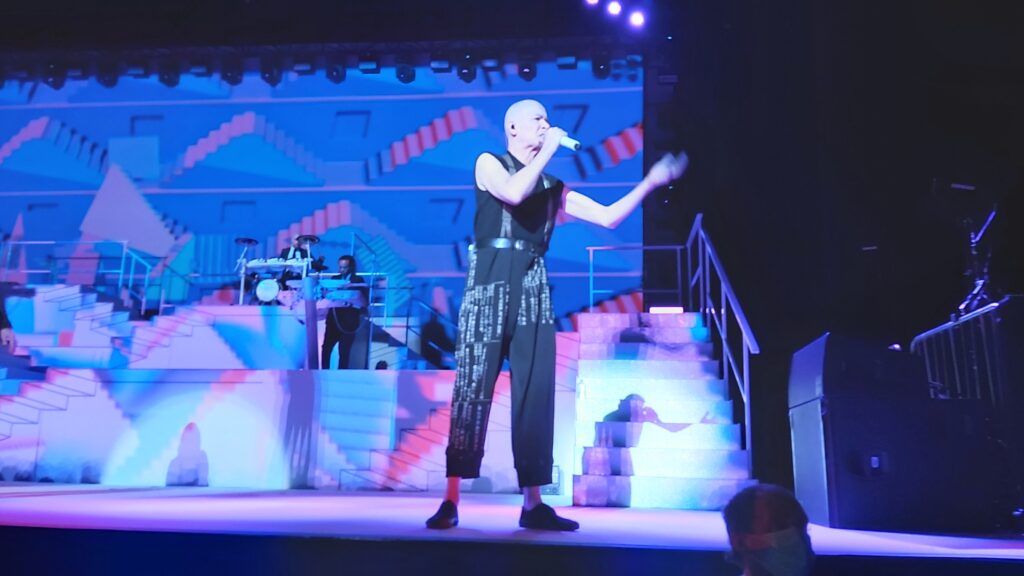 The show essentially fell into three parts, starting with some post-Dare hits, followed by that album in its entirety and in original running order, which was a sensible choice as it finishes with the band's biggest hit, and closed the main part of the set, before they returned for a two-song encore.
"Mirror Man" was a great choice to start, and the audience got right into the groove straight away. The musicians consisted of two keyboardists and a drummer (electronic drums, natch), and the aim of the evening seemed to be to recreate the studio sound as closely as possible. Performing early electronic music live presents a few major technical challenges – the Dare sleeve contains a list of the equipment used to record the album, and you'd be brave standing in front of a live audience expecting that gear to perform faultlessly these days. Gary Numan long ago gave up using early analogue synths on stage, and has used this as an opportunity to make his early work sound very different live – the synths are still prominent but there's more guitar in the songs, and they sound much grungier than they originally did. Kraftwerk perform using entirely digital equipment, with some noticeable variations in their sound, and have released new recordings of many of their early albums made with modern equipment. Jean-Michel Jarre is still brave enough to bring an analogue synth on stage with him, but it only gets used once or twice. Clearly some effort has gone in to making the League sound as close to original as possible, but with modern equipment, and it works very well.
Oakey is bald these days, so no more of his famous asymmetrical haircuts, but he did at least start the show in an asymmetrical outfit.
"Tell Me When" was next, another great up-tempo number, and one of the band's later hits. It was followed by "(Keep Feeling) Fascination", the twelve-inch single of which graced my childhood record collection. It presented slightly more of a vocal challenge, so the keyboard players joined Catherall and Sulley to provide backing vocals during this song.
Next was "Heart Like A Wheel", one of only two songs in the show I didn't know beforehand, but I liked it, and I'll have to give it a listen, along with much of the band's later output. After this, a guitar made its only appearance of the night, for "The Lebanon". Phil Oakey had declared in the band's early days that "the guitar is dead" and famously banned them from the band's performances, but this one snuck in somewhere (much to his disgust, apparently). It totally works, though – the song sounded as good as ever, even though the bass and screeching guitars sounded very odd to the fans of the day. I've often thought the lyrics to the song are a bit cheesy and it feels a bit over-earnest, but fair play to them for tackling a difficult subject. The Lebanese civil war was a long-running and bitter conflict that destroyed Beirut, a city known for its vibrant cultural scene and historic buildings, and the key question of the chorus – "who will have won, when the soldiers have gone?" – remains an important one.
"One Man in My Heart" followed, another song I didn't know, but was again enjoyable. This first part of the show concluded with "Human", a slower number with great lyrics reflecting on temptation and infidelity in relationships. It was performed in an extended version with a lengthy instrumental at the end, during which Oakey, Sulley and Catherall left the stage for a costume change. They re-emerged for the performance of Dare in its original running order.
The opening to "The Things That Dreams Are Made Of" is a classic, and it oozed atmosphere as the band gave it a great airing. Rather oddly Oakey substituted the word "money" for "cash" in the chorus, but I'm sure he had his reasons for that. I think it confused people a bit, though. It was such a strong opener for the album, a taste of the exotic delights to follow. "Open Your Heart" was up next, a real crowd-pleaser with soaring synths in the chorus that really sounded amazing. We had a chance to sing along as he didn't sing in the first chorus – we bellowed it out instead.
"The Sound Of The Crowd" followed, one of the earlier single releases from the album, and clearly inspired by the clubs of the day, and the very fashion-conscious, distinctive image of the band. It's a bit more percussion-oriented than a lot of the other tracks on the album, with a staccato sound that works really well with Oakey's strident vocals, inviting us to "add your voice to the sound of the crowd." We certainly did. "Darkness" is much more melodic, but with lyrics describing feelings of dread and fear. The BBC describes this song as "practically inventing electro goth", and I can't argue with that. Side one of the album finishes with "Do or Die", again performed in an extended version with quite a lengthy instrumental, with a brief pause before side two commenced. It's a brilliant track and a real highlight of the album in my opinion, with dramatic sounds and Oakey at his lyrical best.
Side two kicks off with a short and simple instrumental version of the theme from "Get Carter", the gritty 1971 gangster film starring Michael Caine. The musicians performed this alone, with Oakey coming on stage for "I Am The Law" – the song is inspired by Judge Dredd, but to me it's always said something about fundamentalist religion, and the attitude of leaders in that world. Oakey is known to be an atheist, and it always felt to me like he may have been expressing that in this dark and brooding piece. Catherall and Sulley were missing from the stage for this song, and also the next one, "Seconds", which is about the assassination of JFK. It's an instrumental highlight which really soars and swoops. Apparently Oakey was really fascinated by JFK's life. As on the album, these first three tracks on side two were performed all flowing straight into each other.
"Love Action" saw Sulley and Catherall back on stage, and Oakey at his energetic best, running from one side of the stage to the other for much of the song, passing one of the keyboardists running the other way (I'm amazed they didn't bump into each other). Given that Oakey is now well into his sixties, I was extremely impressed by his ability to run back and forth and sing flawlessly without breaking a sweat in one of the most up-tempo tracks on the album!
And so we get to "Don't You Want Me?", the smash hit of the album and one of the biggest hits of all time. It's quite widely known that Oakey strongly resisted releasing this as a single and didn't like the song, relegating it to the end of side two and considering it a filler track – the crowd clearly didn't get that memo, and neither did the record-buying public. All these years later, it still gets a fantastic welcome. I'm sure the song's success was greatly boosted by the lavish and aesthetically wonderful video, which remains memorable, but seeing it live was very hard to beat.
The band left briefly before coming back for their encore. First we got "Being Boiled", the band's first ever single, and one of the first ever British songs produced using entirely electronic instruments. It was an interesting choice for the live show – a reminder of the early days, when the ethos and style of the band's output was entirely different. The show finished with "Together In Electric Dreams". Technically this isn't a Human League song, as it was a film soundtrack song produced by Giorgio Moroder, with Oakey providing the vocals. They regularly perform it live though, and it was a great choice to finish a fantastic evening.
I figured I'd enjoy the gig, but I seriously underestimated just how much I'd enjoy it. Not only do the songs still sound as good as they ever did, the live performance was technically excellent, and the show was a visual feast as well, with great lighting and set design.
The Human League have had lean years and struggles, especially during the nineties and 2000s when eighties electronica was considered extremely naff, and their new material at that time didn't do well. However, to still be here forty years on, filling huge venues with adoring fans, is quite an achievement. It's clear that the band love what they do, and are rightfully proud of their back catalogue of brilliant pop songs. It was an absolutely magical night.