Fun with my new arrival from eBay, a lovely Brother EP-44 typewriter/printer…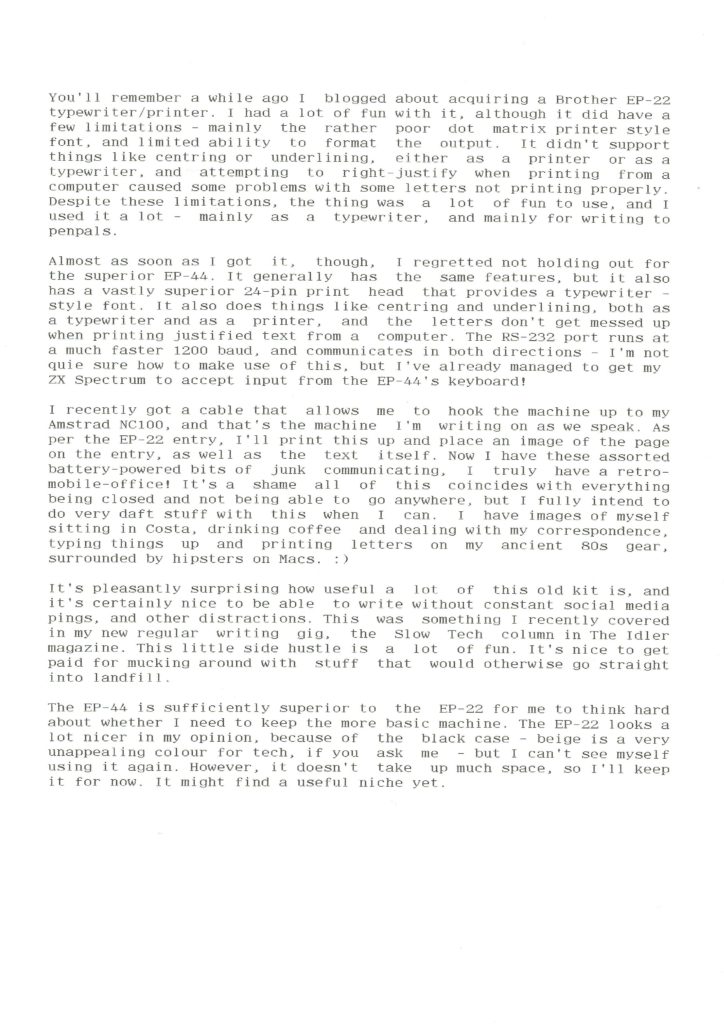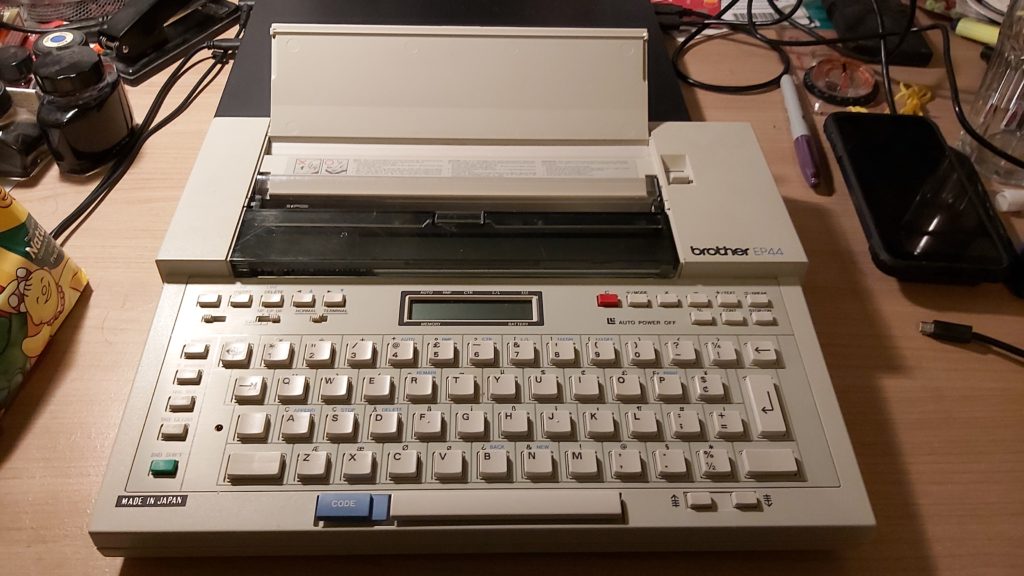 You'll remember a while ago I blogged about acquiring a Brother EP-22 typewriter/printer. I had a lot of fun with it, although it did have a few limitations – mainly the rather poor dot matrix printer style font, and limited ability to format the output. It didn't support things like centring or underlining, either as a printer or as a typewriter, and attempting to right-justify when printing from a computer caused some problems with some letters not printing properly. Despite these limitations, the thing was a lot of fun to use, and I used it a lot – mainly as a typewriter, and mainly for writing to penpals.
Almost as soon as I got it, though, I regretted not holding out for the superior EP-44. It generally has the same features, but it also has a vastly superior 24-pin print head that provides a typewriter -style font. It also does things like centring and underlining, both as a typewriter and as a printer, and the letters don't get messed up when printing justified text from a computer. The RS-232 port runs at a much faster 1200 baud, and communicates in both directions – I'm not quite sure how to make use of this, but I've already managed to get my ZX Spectrum to accept input from the EP-44's keyboard!
I recently got a cable that allows me to hook the machine up to my Amstrad NC100, and that's the machine I'm writing on as we speak. As per the EP-22 entry, I'll print this up and place an image of the page on the entry, as well as the text itself. Now I have these assorted battery-powered bits of junk communicating, I truly have a retro-mobile-office! It's a shame all of this coincides with everything being closed and not being able to go anywhere, but I fully intend to do very daft stuff with this when I can. I have images of myself sitting in Costa, drinking coffee and dealing with my correspondence, typing things up and printing letters on my ancient 80s gear, surrounded by hipsters on Macs. 🙂
It's pleasantly surprising how useful a lot of this old kit is, and it's certainly nice to be able to write without constant social media pings, and other distractions. This was something I recently covered in my new regular writing gig, the Slow Tech column in The Idler magazine. This little side hustle is a lot of fun. It's nice to get paid for mucking around with stuff that would otherwise go straight into landfill.
The EP-44 is sufficiently superior to the EP-22 for me to think hard about whether I need to keep the more basic machine. The EP-22 looks a lot nicer in my opinion, because of the black case – beige is a very unappealing colour for tech, if you ask me – but I can't see myself using it again. However, it doesn't take up much space, so I'll keep it for now. It might find a useful niche yet.