I fancied another bothying expedition before I returned to work this week, so I spotted Resourie in the Scottish Bothy Bible, and thought it looked great. Going midweek, I figured I had a good chance of having the place to myself, and I packed enough food and firewood for a two-night stay, something I've never done in a bothy before.
The drive up to Glenhurich was pretty spectacular, taking me beyond where I parked up for my New Year trip to Gorton, and through Glencoe before taking a ferry over the loch to Strontian, and then up through some steep windy roads to a good parking spot.
Rather helpfully, I soon saw this sign…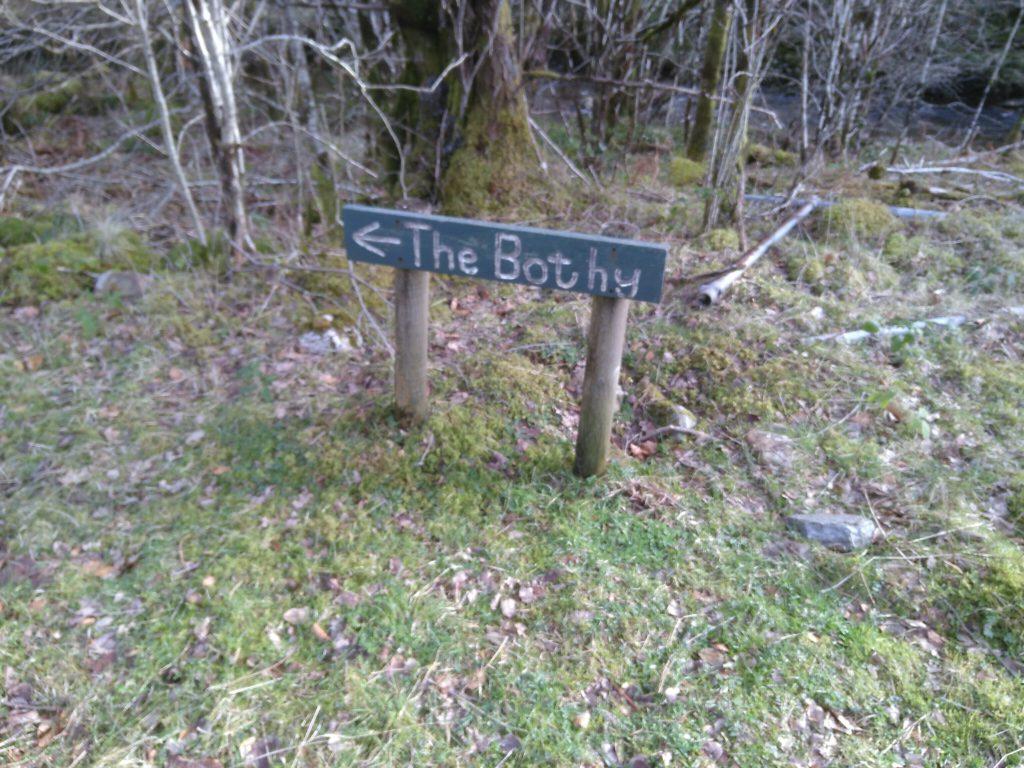 …and armed with an OS Map, a GPS and my phone for navigation, I thought the two-mile trek in should be relatively easy.
HAHAHA!
After the first sign, I saw no further signs. The second sign of three is apparently missing, but an old man I met just before I parked up told me to look for a little cairn to indicate where I should turn off the track and into the forest. He warned me the terrain was boggy and to take care.
I found said cairn, but wasn't sure I was in the right place, although the OS map was re-assuring. I slid gently down the bank of a stream, thinking I was probably in the right place, but it looked a bit dodgy, given my lack of suitable boots and poles for the tricky terrain. I didn't try crossing the stream (It Would Be Bad), and so I scrambled back up to see if I could go back down the path and find a better way into the forest.
This, in retrospect, was where I really messed things up!
I took what looked like a path closer to the river that was heading in the right direction, but it soon turned into an impassable swamp. It was getting late by this time, and I really was running out of time to find the bothy if I didn't want to spend a cold and miserable night in a forest, without a tent. So…I decided to head up the side of the hill back up to the proper path, before heading back to my car.
I ended up entering a full-on swamp, full of fallen trees, and the weight of my backpack made negotiating it a horrible experience. By the time I emerged onto solid ground, I was exhausted, sweaty, muddy, scared and a bit lonely, and feeling extremely ill-disposed towards bothying again any time soon. I was hugely relieved to get back to my car.
I drove back to Strontian, where I tried the town's hotel for a room for the night. Turns out only the bar was open, but the barmaid made a couple of calls and got me a room at the nearby Otterburn B&B. Big shoutout to the lovely people who run this place for making a bedraggled tramp so welcome! After a shower and getting changed out of my damp and grubby Official Bothying Trousers, I settled down for a relaxing evening. I felt somewhat better, and realised I'd done the responsible thing, as taking the risk of getting injured in an isolated place in the winter is not very clever, and this is pretty much the way people die.
I felt even better after a big breakfast in the morning, and I decided to explore Strontian, which turned out to be lovely. It has fantastic walking trails around the woods and river next to the village, and they're liberally strewn with geocaches – I took a great walk and found 13 caches while I was at it, enjoying a beautiful peaceful day, which is exactly what I'm after when I go bothying. So…I didn't find the bothy, but I had a great trip (eventually) anyway.
Strontian Church

Banks of the Strontian River

Hills from the Strontian Woodland Trail
I just stayed out the one night. When I was unpacking, washing and putting away my bothying kit, I noticed a large and somewhat immodest rip in my Official Bothying Trousers. I hope it wasn't noticed by too many people. Just as well I took a spare pair of trousers with me – that's been known not to happen before!
I've subsequently acquired New Official Bothying Trousers, and the next items on the kit list are some hiking poles. I'm not a fan, but they would have come in handy, both here and on my swampy trip to Loch Chiarain last year.
Anyway, I think I've twigged where I went wrong with Resourie – if I'd just crossed the stream and found my way up the other bank, around to the left, I'd have found the bothy fairly quickly. It might have been boggy and tricky, but almost certainly less tricky than my rather silly attempt to take an unmapped different route. It's one for dry weather, I think, but I reckon I'll track it down fairly quickly.
Given that bothying is a bit like geocaching – navigating to a box outside in a wild environment, just a bigger box – it was inevitable I'd have a Bothy DNF eventually! Still, never mind. Best to learn from the experience and get back on the horse. I'll find that bastard thing eventually!