My parents were often short of money while I was growing up, and they frequently had to find creative ways to supplement their income. One thing that my mum got into was selling at antique and collectors' fairs, and she actually ran one in Kingston for a while. It seemed to be something she enjoyed and was good at, and it all features fairly prominently in my memories of childhood.
She needed a source of things to sell, of course, and in those pre-eBay days, the obvious place to hunt down bargains was at a car boot sale. These almost invariably took place on Sunday mornings, and make a fine topic for this week's reflection. For several years, we'd get up at godawful o'clock and drive off to a muddy field somewhere, and survey the treasures on offer from the assorted sellers.
I was very pleased to find there's actually a song about car boot sales, and here it is…
I particularly liked the list of items one might expect to find at a car boot sale, and it's worth actually repeating here.
Toy soldier with only one arm
Picture of a crying clown
Knitted doll for a toilet roll
Dinner service (chipped)
Top of the Pops album not featuring the real artists
Osmonds annual 1972
Ashtray from Quebec
One shoe, size ten
Hedgehog made of shells
Flamenco dancer doll from Spain
Picture made from bits of a clock
Poster of Duran Duran
Job lot of clothing patterns
Biography of Anwar Sadat
NME signed by Nick Kent
Bros album, slightly scratched
Cine film, unused
Movies from 1981 on Betamax cassette
Cigarette cards, playing cards, bubble gum cards
Tennis rackets
Pair of jeans with a disturbing stain
T-shirt from the Shuttleworth collection
There were a couple of car boot sales that were prominent long-term fixtures in my childhood calendar. One took place at some sort of sports/social club in Fetcham, Surrey, and the other took place in the very large station car park at Crawley, near Gatwick Airport in West Sussex. We'd get up and drive off to them, still in the dark if it was winter, and each was a rather different experience. At the one in Fetcham, the club's field was the location of the trading, and the bar was open for provision of toilet facilities. Well, the building was open. The actual bar was closed, but there was always bit of a "morning after the night before" atmosphere in there. It was dark and gloomy, the smell of stale beer and cigarette smoke hung in the air, and the ghosts of lively Saturday nights seemed to haunt the place. I've always been sensitive to the atmosphere of places, and this remains an oddly powerful memory – the dark and gloom of Sunday mornings contrasting with the celebrations and excesses of lively Saturday nights. It was a glimpse into a mysterious adult world I didn't understand (and still don't, to some extent).
The Fetcham car boot sale always seemed to be full of bored kids like me, and we'd wander about trying to find stuff to do while our parents surveyed the goods on offer and tried to make their fortunes. Unfortunately, options were limited, and hanging around in the gloomy closed bar seemed to be about all we could manage. That said, I remember being a bit more adventurous once, and went clambering about on some mounds of earth around the edge of the field. Unfortunately, this ended up with me falling headlong into a huge clump of nettles. As I was wearing shorts and a T-shirt, I ended up with stings all over my body, and spent most of the rest of the day howling with pain and self-pity.
I have slightly fonder memories of the Crawley car boot sale, because it was much bigger, and took place on concrete, which made it feel like a much more civilised business. I couldn't be doing with all the mud. The main attraction here, of course, as a train-obsessed kid, was the railway station. I was happy to go and just sit there watching the trains pass by, as my parents did what they needed to do. As time went on, and I was old enough to do it by myself, I'd even take a trip on the train to Horsham and back, which made me feel grown-up and independent, and a train ride was always welcome. Said trains would usually be class 421s or class 423s, and Horsham would sometimes have interesting things in the sidings. Sunday mornings were always really quiet on the rail network back then, so whatever I saw, it was rarely accompanied by any people. Most of them were sensible enough to still be in bed, rather than poking through second-hand crap in the dark.
That's the thing about car boot sales – whatever time they were supposed to start, even if it was the afternoon, you'd have people showing up at dawn for some bizarre reason. Whatever attempts organisers made to try and schedule sensible times, both buyers and sellers would show up ridiculously early. Eventually a lot of organisers realised that you just couldn't stop this from happening, and they'd charge exorbitant admission fees for buyers arriving before a certain time. That's capitalism for you – you may as well cash in on this stuff.
There was a particular category of buyer for which my mum had utter contempt, despite the fact that she was actually one herself, and that was "dealers" (said with a spit). These were people, like her, that were on the lookout for antiques and collectables, to buy low and sell high. They seemed to circle around stalls like vultures while sellers were still unloading and setting up, and they'd swoop in and snap up anything of value in seconds. I think my mum hated them because there was such a mercenary, dog-eat-dog attitude among them, and I can't say I was particularly fond of them either!
My parents would usually give me a bit of money and set me loose on the stalls, because there was frequently stuff for sale that a kid would like – at least a kid like me, with a strange fascination for ancient junk. This is clearly where my love for old and slightly useless cameras came from – I cut my photographic teeth on Brownie 127s and Ilford Sporti 4s bought from car boot sales. On occasion, I'd find perhaps a wagon or some buildings for my model railway. I even scored a Tri-Ang class 31 loco once, although I never got it to work, and it sat in a siding as a scenic prop. Books were also popular purchases.
After I got my Spectrum +2 for my 13th birthday in 1987, car boot sales became rich pickings for computer software and accessories. I was late to the party with owning a Spectrum, and it had been in decline for a while. The launch of the +2 revived its fortunes a bit, as a successful cheap entertainment machine, but by that time many early Spectrum owners were upgrading to 16-bit machines. As a result, there was cheap software aplenty, and you could pick up reasonably decent programs for peanuts. I seem to recall this was usually the Sinclair-branded software that was common in the Spectrum's early days, before the big games publishers got in on the act. Stuff I picked up then included the Horace games, Chequered Flag, Computer Scrabble and Tasword Two, although the latter was somewhat useless without a printer. I remain fond of them all to this day. By this time, my mum had found car boot sales a bit closer to home, and I remember an event in Hounslow was particularly good for bargain Spectrum tapes.
All that searching for treasures would make us hungry, and thankfully most car boot sales had a burger van for some cheap and nasty refuelling (probably VERY nasty, given the BSE scare in the eighties). However, on the days we ventured as far as Crawley, there was always bit of a treat in store – a stop at a Little Chef.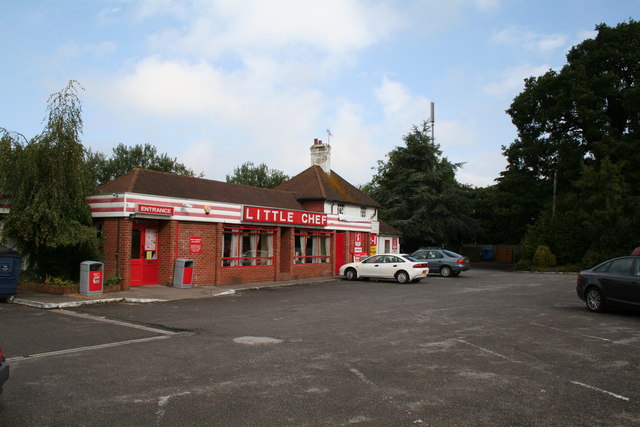 This was a nationwide chain of roadside restaurants, and they were very popular watering holes on long journeys. A bit of detective work suggests we probably stopped at the one in South Godstone (pictured above). It was next to a road that never seemed very busy. I was intrigued that there was a bus stop next to it, and I never once saw a bus (another rare thing on an eighties Sunday morning). It would always feel like we'd been tramping about all day by the time we pulled up and went in, although it couldn't ever have been later than about eleven o'clock, and the place was usually deserted. My parents would usually have the Early Starter breakfast, which came with its own specially-branded plate, and I'd usually have something off the children's menu. Little Chefs were often sneered at for being naff and poor quality, and they were regularly criticised for promoting obesity, but my parents loved them and considered a visit to be a real treat. Their childhoods were blighted by rationing and poverty, and a plentiful supply of food someone else cooked for you wasn't to be sniffed at. You wouldn't hear any complaints from me, either – after freezing my nuts off looking at endless stalls of crap, I'd hugely welcome the warm interior of the Little Chef, and a plateful of kid-friendly food. If I was lucky, I'd get a pudding too, and the cherry pancakes were wonderful.
All Little Chefs were pretty much the same, of course, and in the eighties, the placemats featured different Little Chef branches, and I'd always be curious to see which one I'd get. Killiecrankie in Scotland was always a favourite, it seemed so exotic, and I thought the name was funny. Turns out it features on a fan wiki page for Little Chef branches! Whoever made this site deserves a medal.
There was always a little shop section in the restaurants, selling maps and car accessories – I'm sure they sold those evil-smelling "Feu Orange" car air fresheners, and there was always one of those dangling from the rear-view mirror of my dad's car. After the meal, I'd get a free lollipop too! Honestly, what's not to love?
Little Chef started to decline from the 90s onwards, as eating and travelling habits changed, and a lack of investment made their restaurants look decidedly shabby and old-fashioned. Most of them ended up being turned into Starbucks, Subways or Greggs, and the last ones closed in 2018. Rather bizarrely, though, the website is still online, so someone forgot to switch it off. I'm really hoping that no-one notices and it stays there forever, as a little historical relic. The prices are already hilariously out-of-date. Even their Twitter page is still up (last post 2016).
I went to car boot sales much less frequently once I was old enough to be left at home on my own of a Sunday morning, and then I started going to church instead, but in later years I'd visit them again once in a while. They still seem to exist, but it's been a very long time since I went to one, so I've no idea what sort of things you can find at them these days. If you want to make money out of selling secondhand stuff, eBay seems like a much more attractive option now, as there's no mud, rain, darkness or freezing wind involved. That said, there isn't a Little Chef breakfast either. It's all swings and roundabouts, I guess.