I'm always fond of a visit to the Isle of Wight, a small island off the south coast of England. As well as a beautiful landscape and a relaxed, peaceful atmosphere, the island has the attraction of one of the quirkiest railways you'll find anywhere, and I felt a visit was called for. I spent a weekend there with a friend at the start of the month.
Getting there from Scotland is bit of a trek, so we decided to make the most of our time by using the Caledonian Sleeper from Edinburgh to London. I'm a big fan of the Sleeper – it's bit of an adventure to travel on, gets you to your destination bright and early, and is the ultimate multi-tasking way to travel – you make genteel and comfortable progress as you snooze. This may well have been my last ride on the existing 1980s sleeper carriages. They're comfy, but well past their prime, and in a few months time will be replaced by brand-new vehicles, including such luxuries as en-suite bathrooms and even a few double beds.
We got into London bright and early on a Saturday morning, and took the Tube to Waterloo, where there was time for a spot of breakfast before we took the train to Portsmouth Harbour. From here it's just a twenty-minute ride on a high-speed catamaran to Ryde, a large town on the north-east of the island. We dock at the end of a long pier, and are greeted by the trains of Island Line, the eight-mile survivor of a once surprisingly dense network of railways on what is a small and sparsely-populated island.
Much of the island's rail network closed in the 1950s, but the section that survived presented British Railways with a big problem. It was operated by a seriously ancient fleet of steam engines and wooden-bodied coaches, but more modern trains could not be used as they would not fit through a lengthy tunnel in Ryde. Enlarging it was a hugely expensive job, but the trains were falling to pieces, and doing nothing was not an option. Once it was decided to keep the Ryde to Shanklin line open, there was an urgent need to find modern trains that could continue running the service.
Someone hit upon the idea of using old London Underground trains – they're very small compared to most trains in the UK, so would fit easily through the tunnel. In fact, they allowed the track to be raised to reduce the flooding problem that regularly caused services to be suspended. Rather conveniently, London Underground were just withdrawing a large fleet of vehicles from the 1920s and 30s, and 43 cars were patched up and repainted, entering service on the Isle of Wight in 1967. They somehow managed to keep going until 1989, when they were replaced by further Underground cast-offs, the trains forming the current fleet.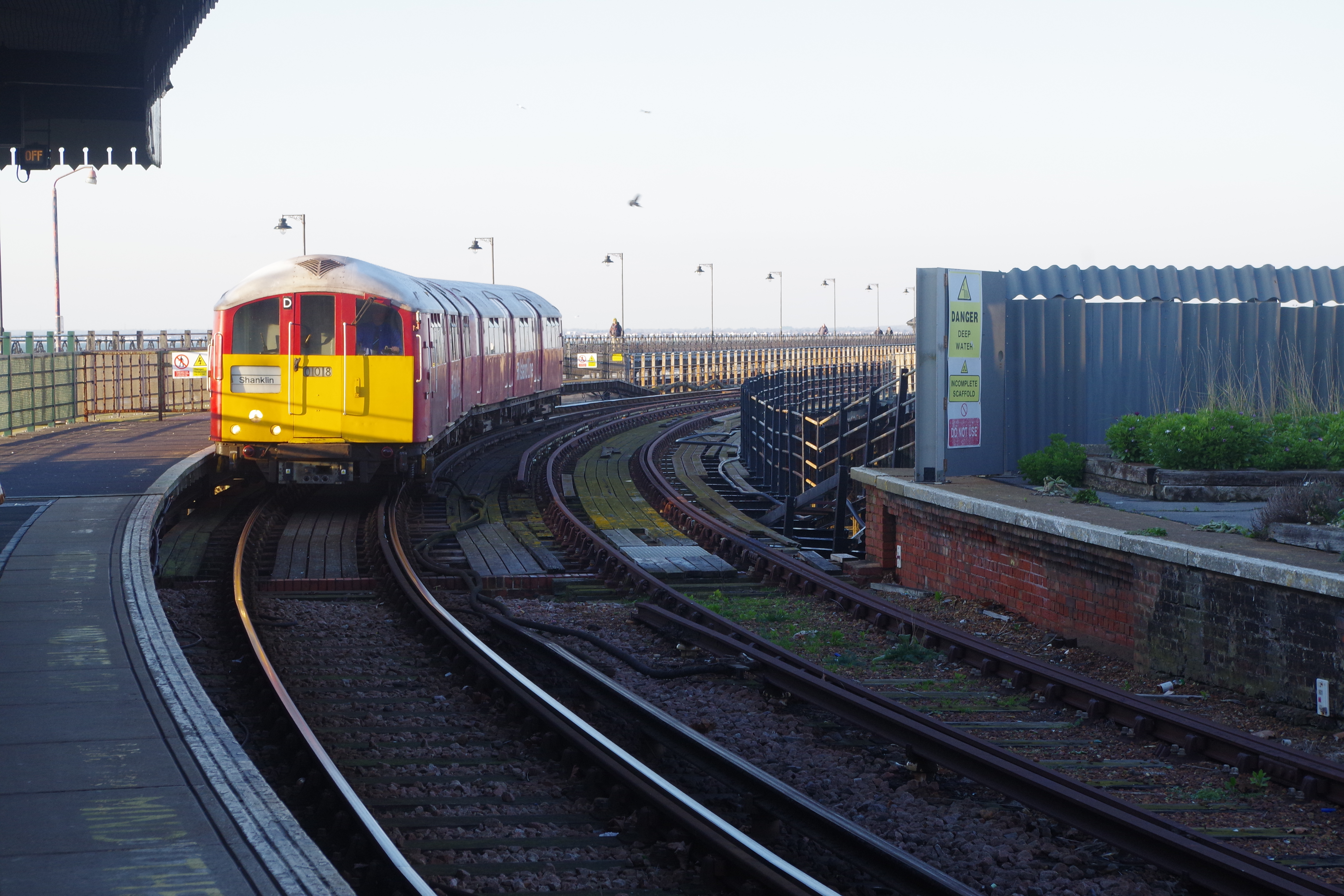 These were the legendary 1938 Stock trains. After a working life of fifty years in London, a small fleet was rebuilt for further service on the island, and they survive to this day, the oldest vehicles now octogenarians. The trains were significant as being the first to introduce features today's Tube travellers take for granted, in particular the layout of seats and doors, and they were widely praised for their welcoming and comfortable interiors. A lot of original features were stripped out when they were rebuilt for Island service, but they're still attractive and pleasant trains to ride in, with plenty of wood panelling and a lot of unmistakeable Underground features.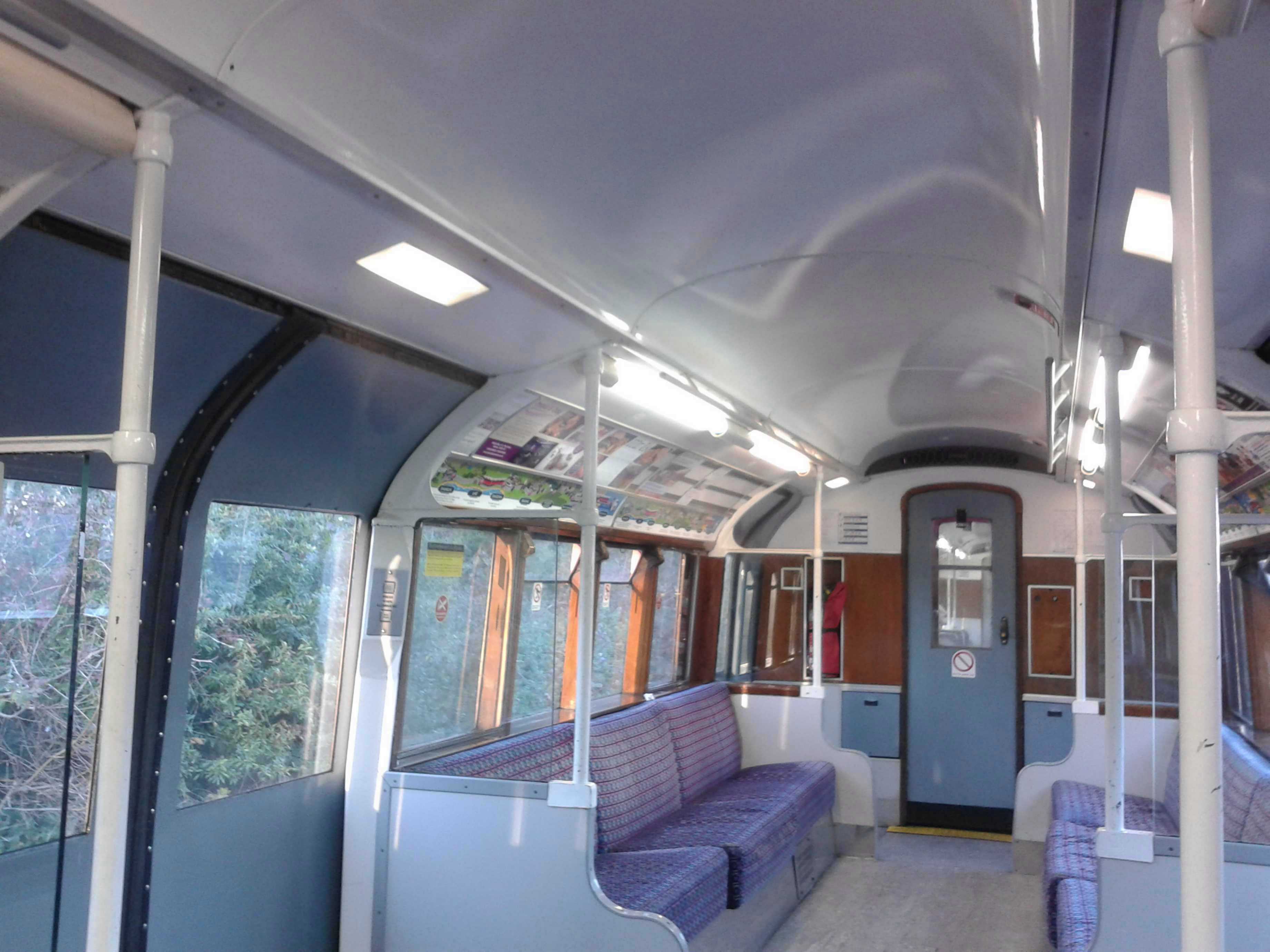 It's not certain how much longer these trains can survive – you won't be surprised to learn that they're by far the oldest trains to survive in everyday use anywhere in the country. They're surprisingly reliable, but up close, it's clear to see they're covered in rust, and the ride on the ancient suspension springs is a bit rough to say the least. Coupled with that, they run on old and poorly-maintained tracks, and the stations on the island are quite run down. If the line is to survive, it needs a lot of money spent on it, with almost everything needing replacement, and discussions are ongoing on what form that modernisation will take. As a result, the venerable "38s" don't have long left, and that's why I was keen to take a ride – it might be the last chance I get.
We took an initial trip from Ryde to Brading, one of the most pleasant spots on the line, in open countryside. Only one platform out of three remains in use, but the long-abandoned signal box has been beautifully restored, and the station buildings refurbished as a community hub.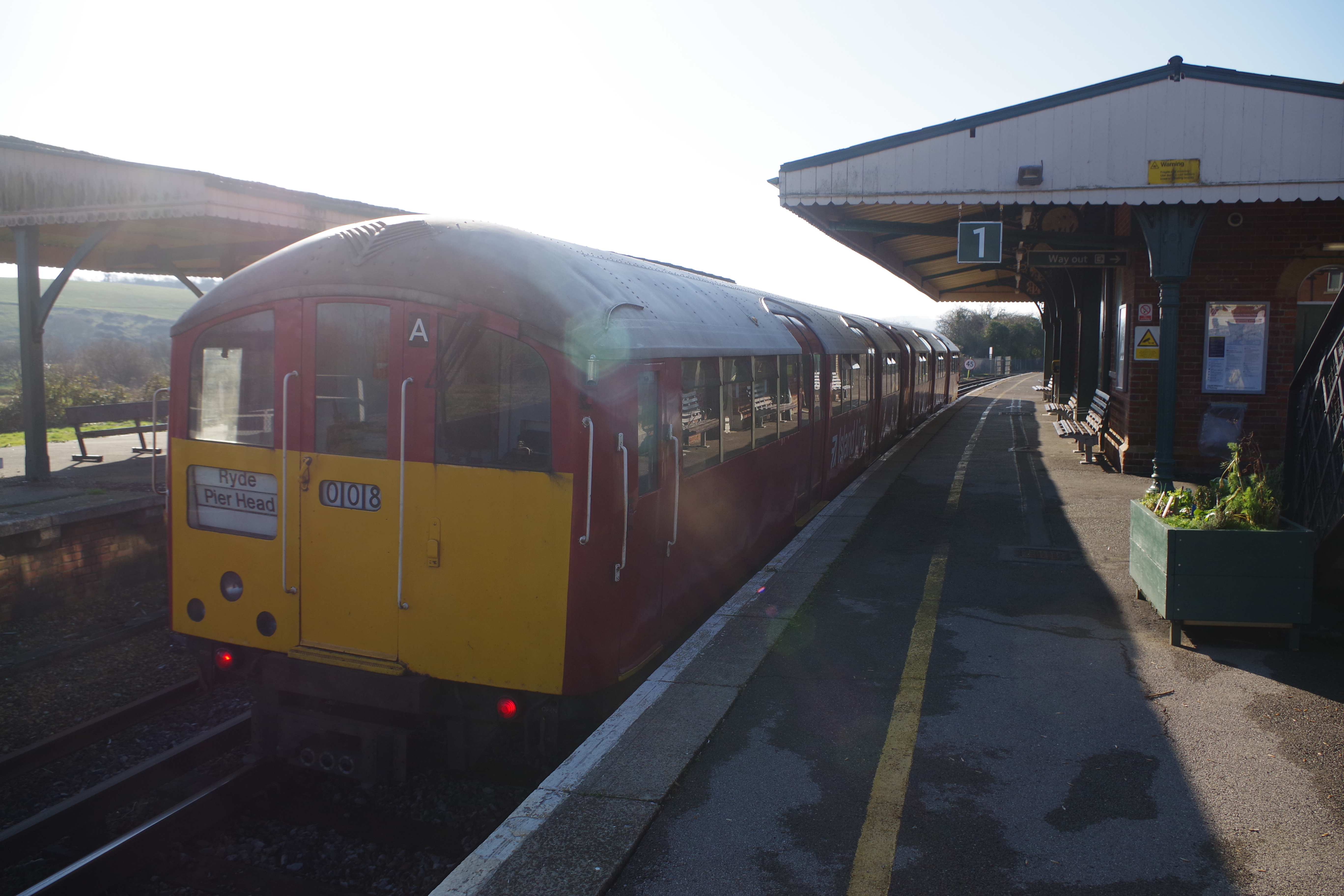 From here, we took a very pleasant, if somewhat muddy, walk to Bembridge, stopping off for a pub lunch as we entered the village.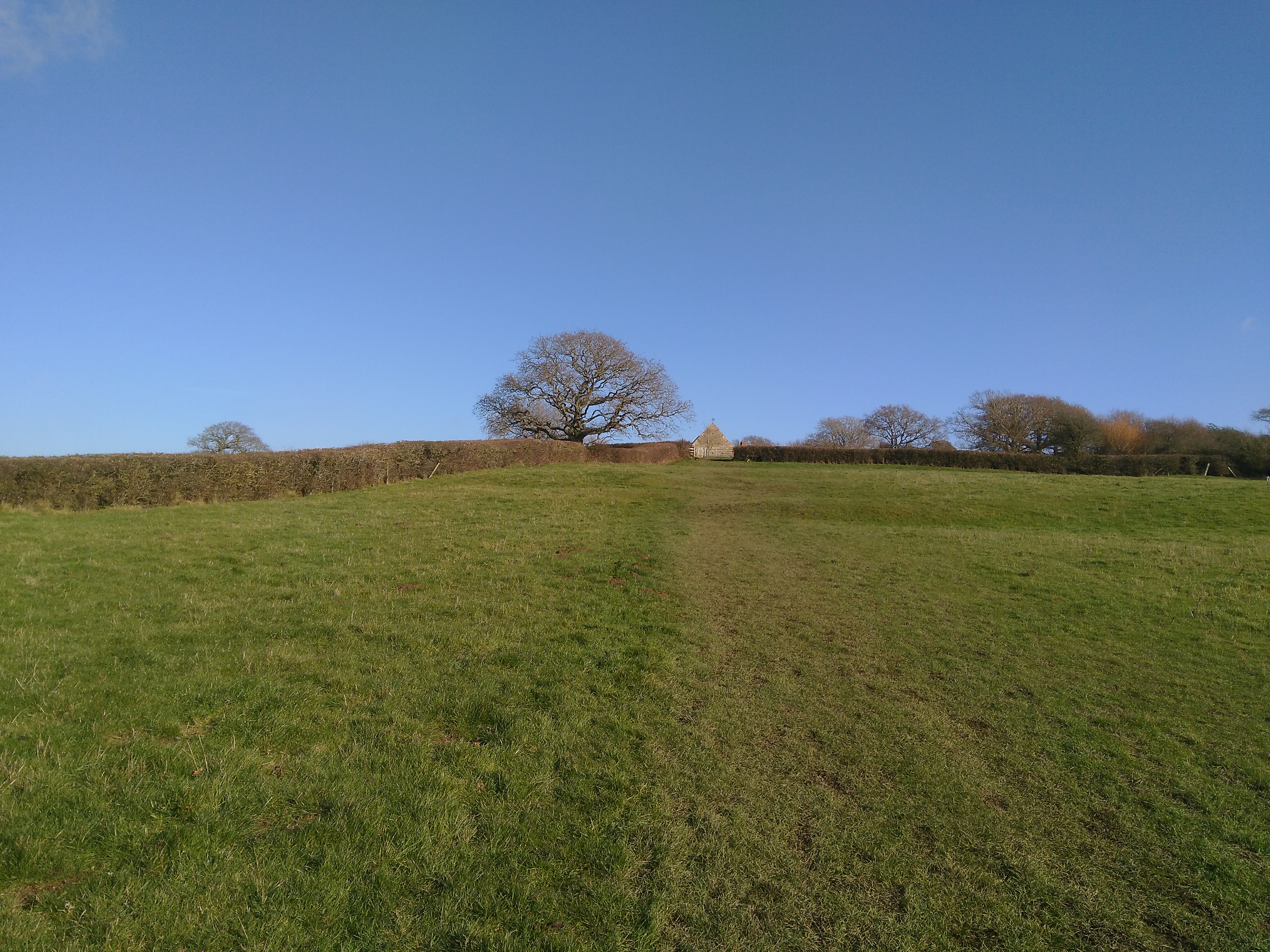 Main attraction when we arrived – brace yourselves, this is VERY geeky – is the last surviving functional "K1" phone box in the UK. As the name suggests, it was the first standard design for phone boxes, and they're rather fancy and fussy things compared to more modern designs. This one is now a listed building!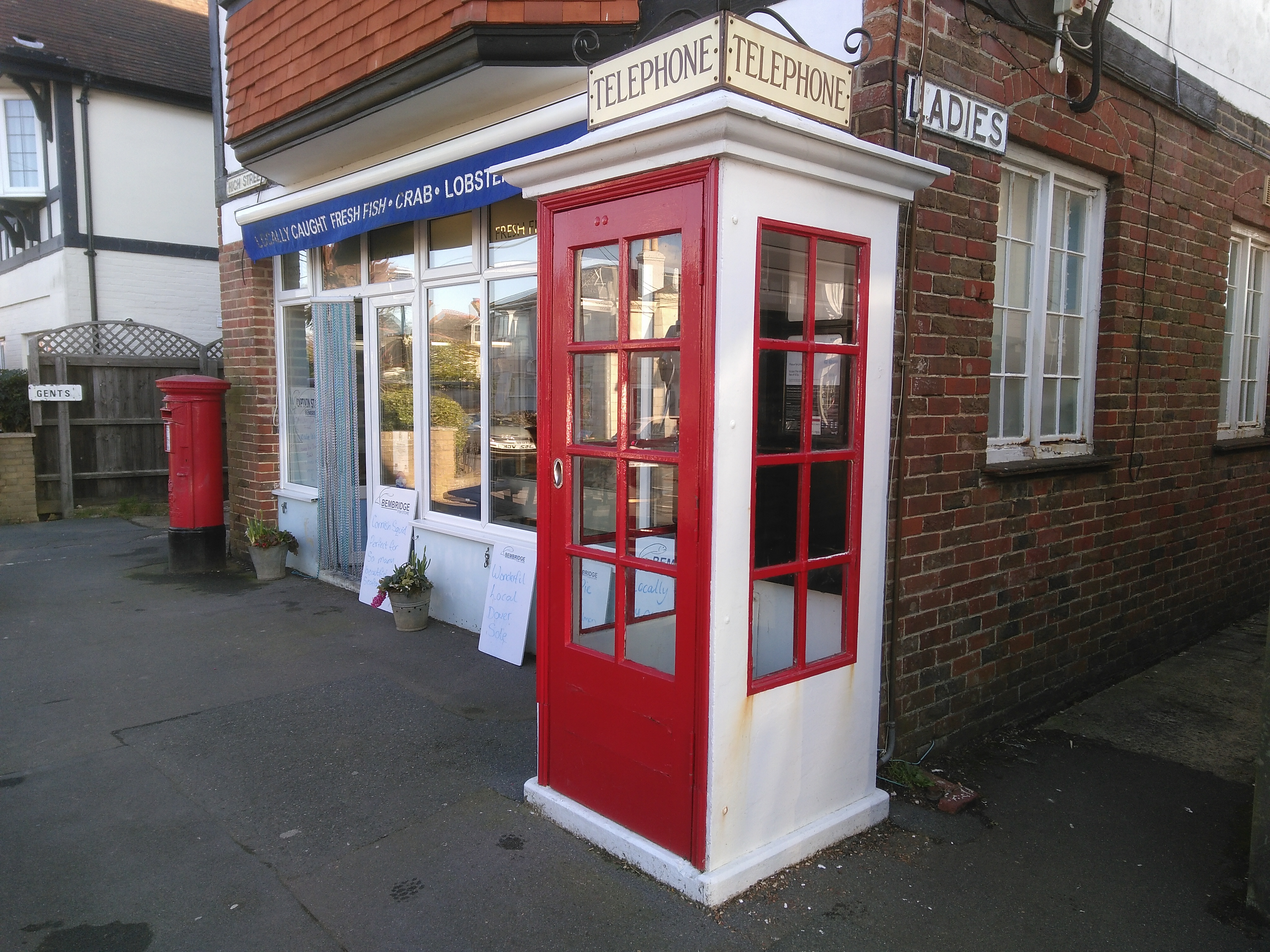 Much hilarity ensued when we tried phoning it – it didn't seem to work properly, but at least we got it to ring.
We took a bus back to Ryde and then carried on my train to Shanklin, the end of the line on the island since 1967. The journey is a very odd one to be making on an obvious London Underground train – from a pier extending out into the sea, you pass through a town before mostly bouncing along through open countryside.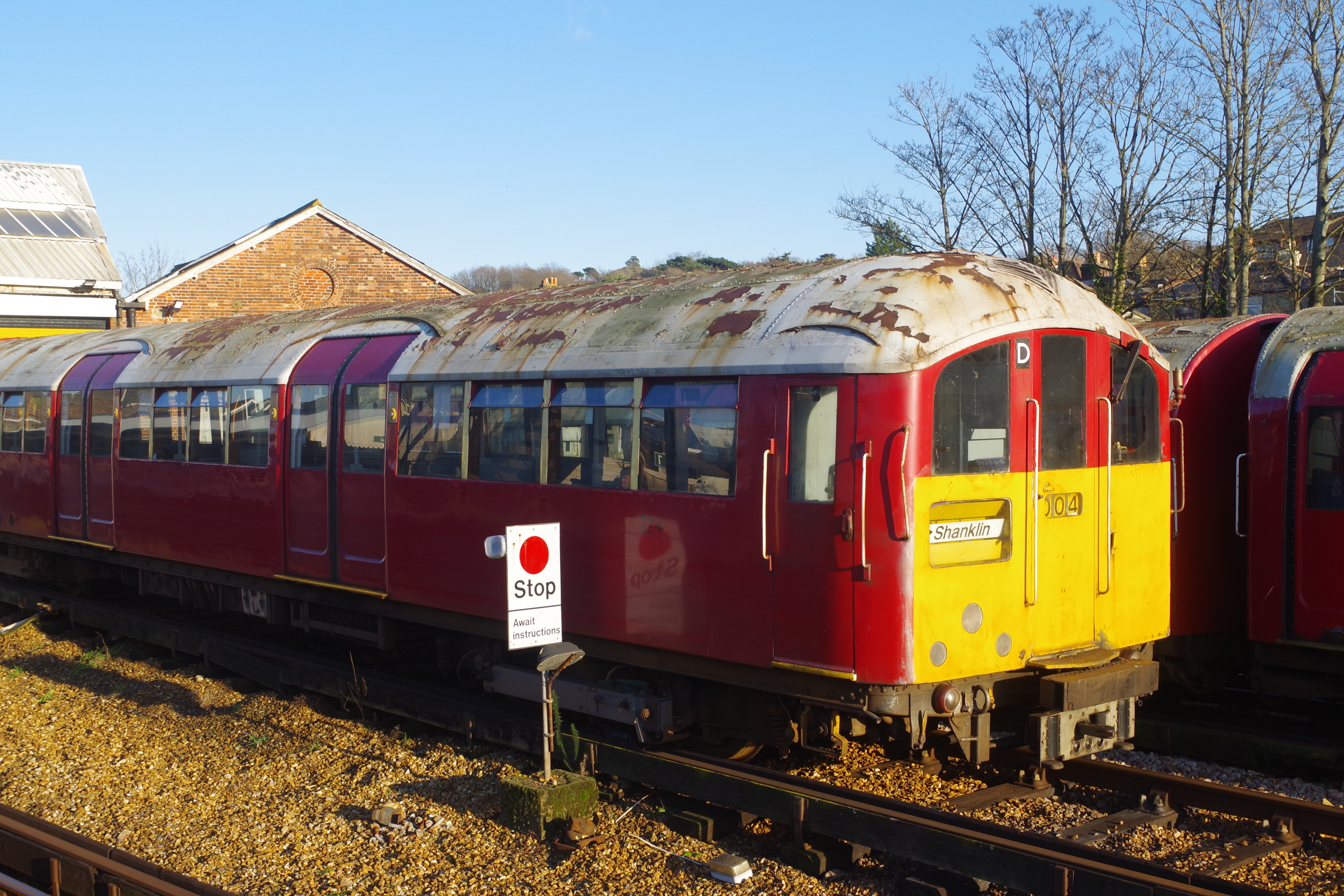 It does remind me a little of the Epping to Ongar branch of the Central Line, closed by the Underground in 1994, that similarly passed through a rural area. The line is now run by a preservation society and well worth visiting.
From Shanklin, we headed back to Ryde Esplanade, where we stayed in the Royal Esplanade Hotel for the night. This really is classic British seaside resort stuff, a slightly down-at-heel Victorian building with simple rooms providing essential tea and coffee making facilities.
Ryde turned out to be a bit more upmarket than I'd remembered. I think it's fair to say that the island has suffered a downturn in tourism in recent years, and some towns are really suffering, but Ryde had a very good selection of bars and restaurants, and we had a great meal at Olivo on Union Street.
In the morning, we headed back to the mainland, and did it in style on what is apparently the only year-round public hovercraft service anywhere in the world. The thing really moves, and gets you back on the mainland in Southsea in a mere ten minutes.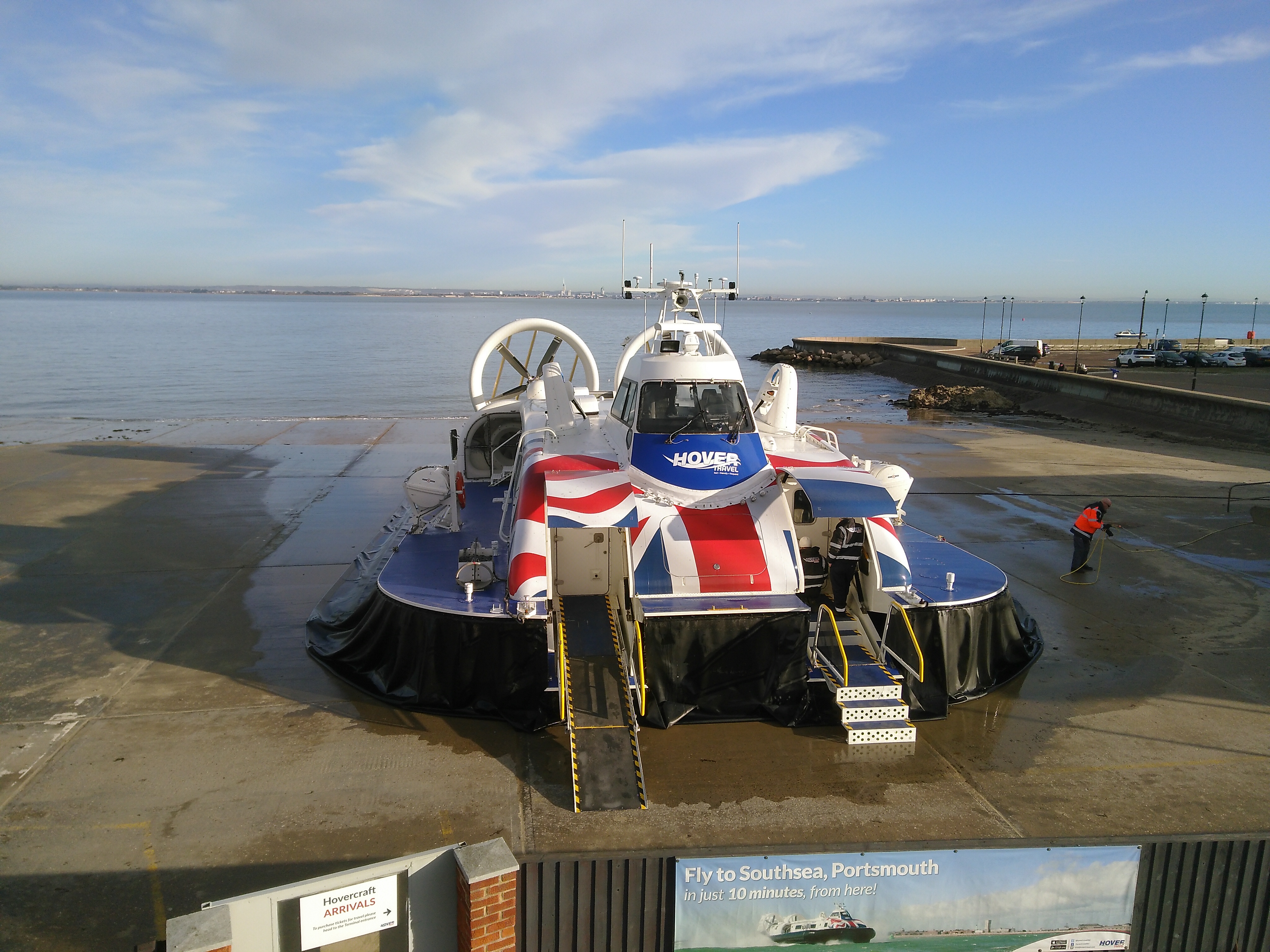 From the hovercraft terminal we did some exploring, and that was possibly the first time I've actually wandered around Portsmouth, which is a bit ridiculous given the amount of times I've travelled through it. It was a beautiful crisp winter day, and so the views from the top of the Spinnaker Tower were pretty impressive.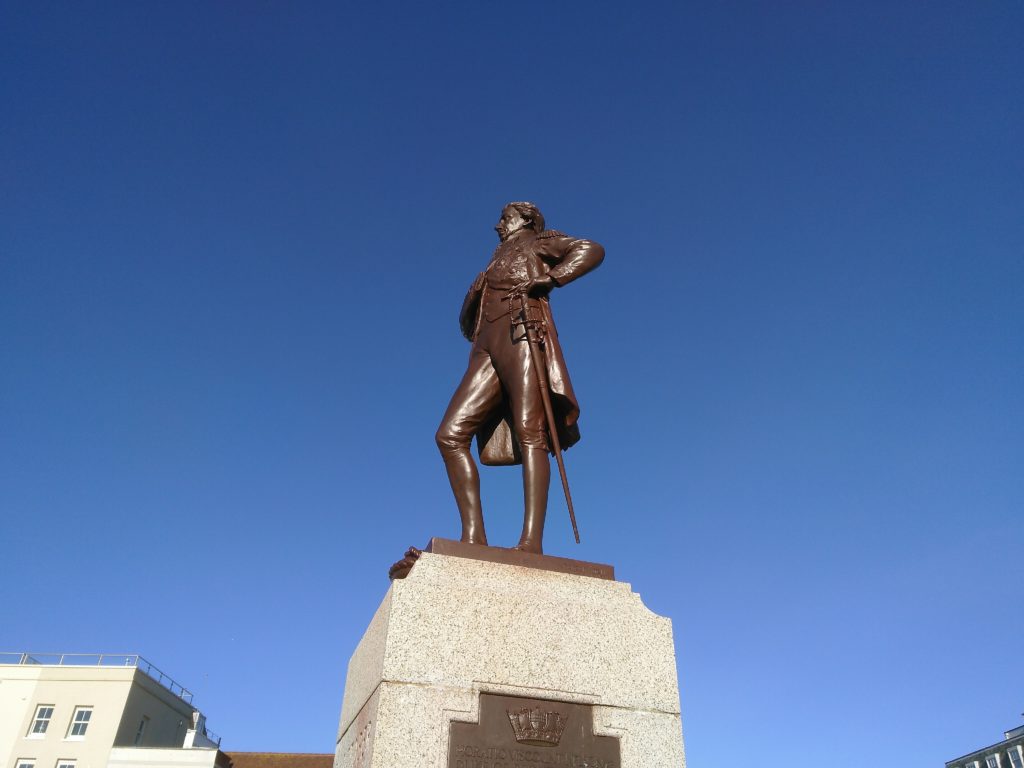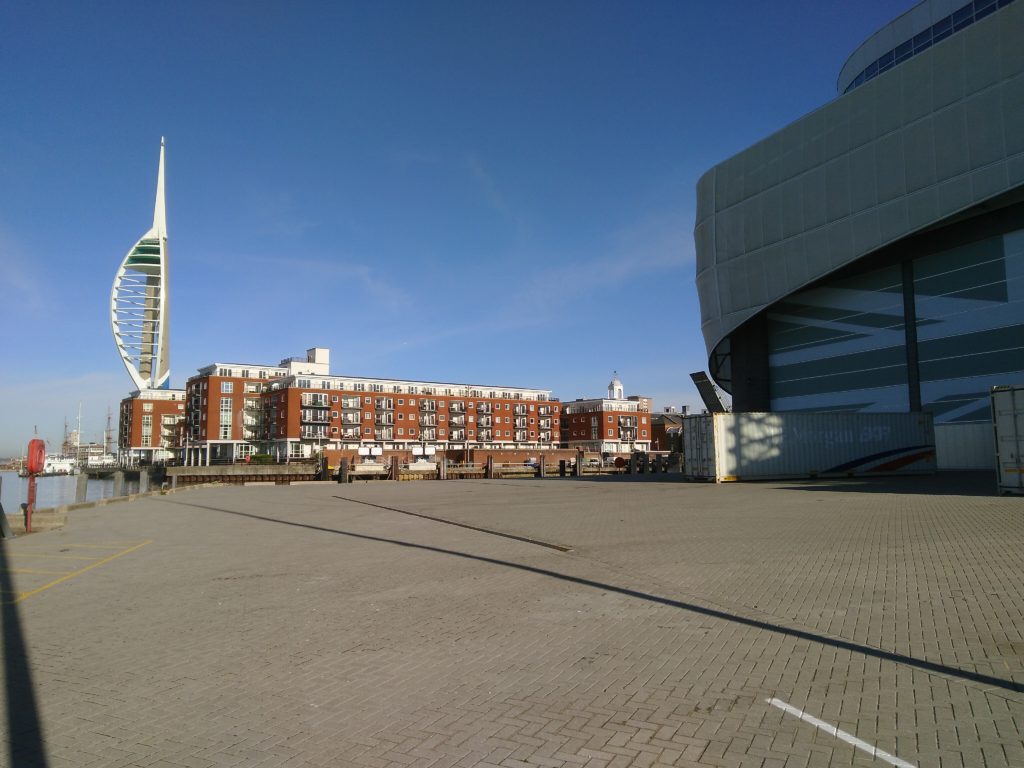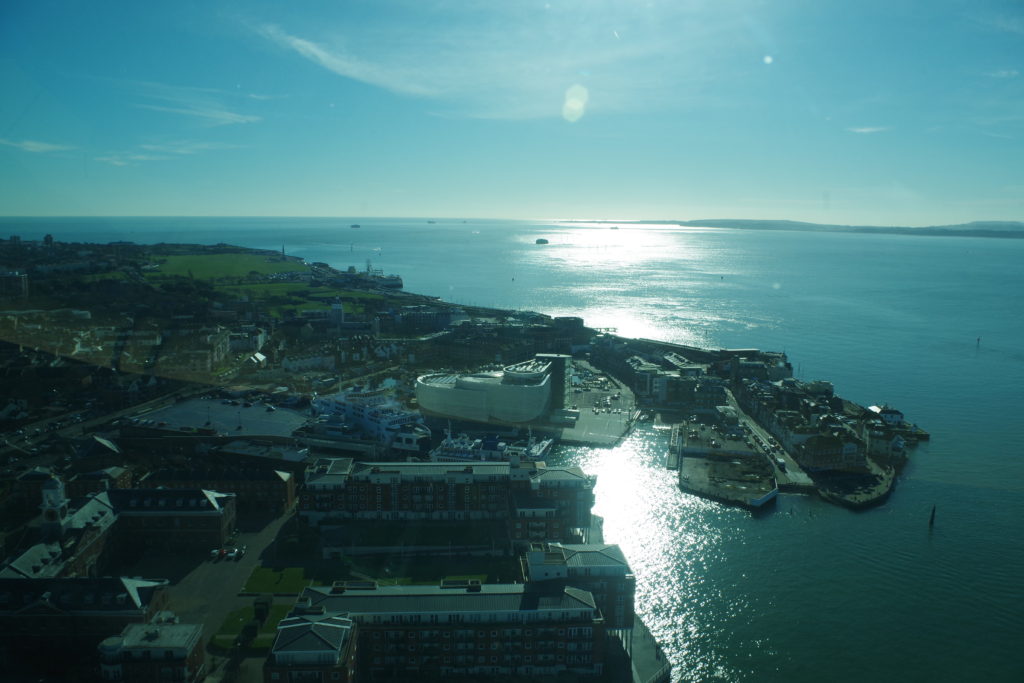 We also had a look around HMS Victory, which was fascinating, and a tad cramped – let's just say I'm glad I was never pressganged into the Navy in the olden days.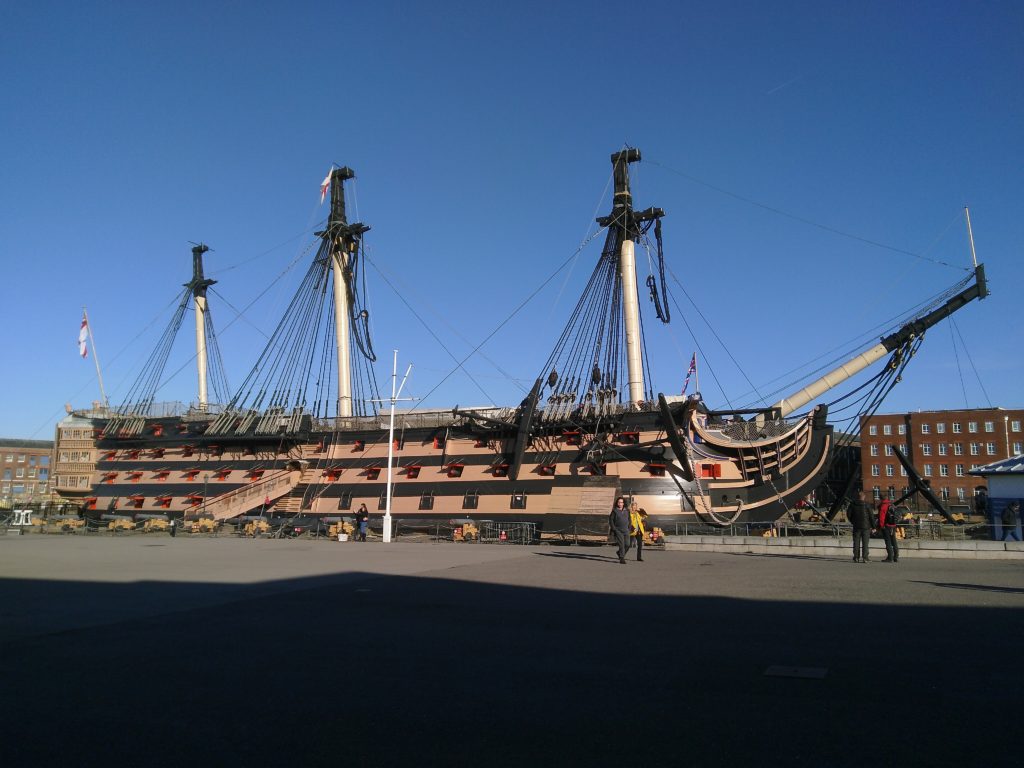 Eventually it was time to head back to the station, for a train to Gatwick Airport and my flight home. Bit of a flying visit, but a lot was squeezed in, and it was a lot of fun. Go yourself sometime, you won't regret it!