With the further lifting of Coronavirus restrictions in Scotland on August 9th, the Mountain Bothies Association announced that bothies would return to use from that date. Bothies – simple shelters in remote areas, free for anyone to use for shelter and sleeping space – had been officially closed since the start of the first pandemic lockdown in March 2020. That said, most of them remained physically accessible and unlocked, and saw quite a lot of use, even though they shouldn't have done. I help to look after Will's Bothy in the Scottish Borders, and it had regular visitors throughout 2020 and 2021, contrary to the rules. Of course, bothies don't have regular staff in attendance, and they're too far from civilisation to be monitored, so it's hardly surprising that people continued to use them.
My last overnight stays in bothies were in September 2019, when I visited Dryfehead and Over Phawhope with a couple of friends. I didn't visit any over the winter of 2019/20, as little did I know COVID was coming. I've made several maintenance visits to Will's, but as an MBA volunteer, I figured breaking the rules on use of bothies wouldn't be a good look if I was caught, so I reluctantly stayed away from them.
At times I was worried we'd never get them back. There's been incredible pressure on businesses to be "COVID secure" by tracking the ID of everyone using their services, enforcing pre-booking and putting in additional cleaning measures, one-way systems etc. All of this is, of course, impossible in the unattended, slightly lawless environment bothies operate in. They require trust, co-operation and understanding amongst users, who may find themselves thrown in with a bunch of wildly different characters in the middle of nowhere. There's a few horror stories circulating about bothy misuse, but generally the system works well, and users appreciate bothies for the amazing resources they are. I was hugely relieved to see the MBA announcement that bothies would finally be back, along with sensible advice on their safe use. It feels to me like a massive return to normality, and an opportunity to once again do things I love.
I was initially tempted to leave visiting bothies a good month or two to allow the novelty to wear off, as I figured they'd be busy for ages, and I do prefer to try getting them to myself (I have a few strategies for this). However, the temptation proved too great – however busy my chosen bothy might be, I was desperate to get back to them, so I blew the dust off The Scottish Bothy Bible, and got planning.
A few possibilities jumped out at me, but I settled on Craig, a large bothy not far from the village of Torridon on the west coast. It looked attractive, the hike in didn't appear too difficult, the area is quite remote, and the bothy has multiple rooms, so if it was busy, getting my own space wouldn't be difficult. In fact, until 2003, the building was the most remote Youth Hostel in Britain, but it closed that year as its location made upkeep and access too difficult. The Mountain Bothies Association took it over and returned it to use in 2006.
I ended up spending two nights in the bothy between 18th and 20th August. I felt very strangely apprehensive and nervous in the run-up to my trip, though, which I guess is hardly surprising given the trials and tribulations we've all faced over the last eighteen months. We've all lived in very small worlds. I've done plenty of more ambitious trips than this one, but as I stocked up on supplies and dug out my camping stuff, I spent a lot of time worrying. What if I had an accident on the way? What if I ended up at a packed bothy, or ran into trouble with people there? It made me a little hesitant before I set out, delaying me a day or two, but I was determined to get out there again.
So, on the morning of 18th August, I set off in the car to Lower Diabaig, the tiny village I would start my hike from. The driving was all pretty straightforward until the last twenty or so miles, from Kinlochewe onwards, where it turned into a terrifying mixture of single-track roads, hairpin bends and fearsome gradients. I eventually parked up at Lower Diabaig with slightly shredded nerves, but excited about the potential adventures ahead, and already appreciating the dramatic scenery of the area.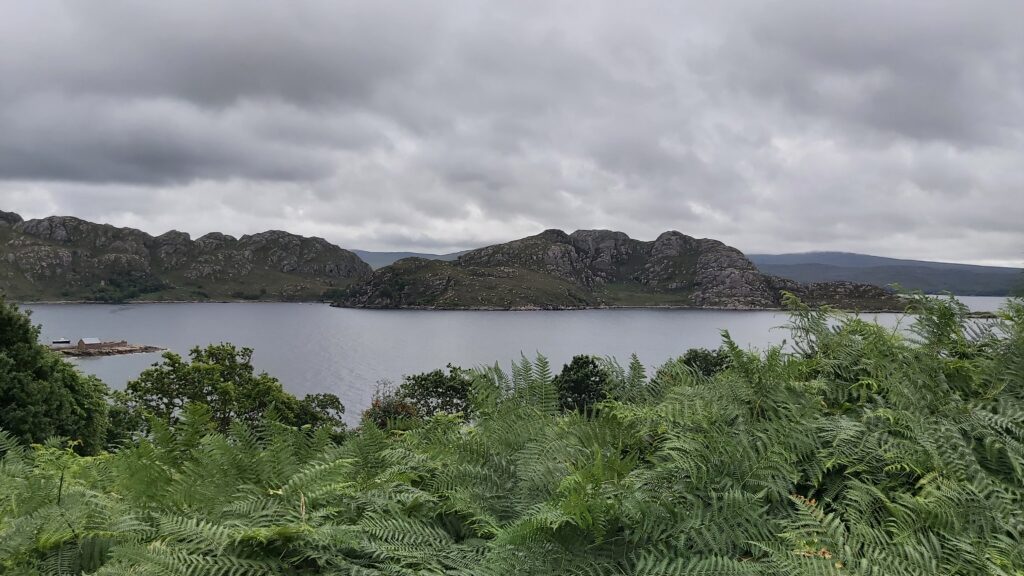 After shouldering my backpack (and worrying afresh about whether I'd forgotten any essentials), I set off on the hike to the bothy. It was about three and a half miles in total, and took me a couple of hours. There was a fairly stiff climb up to the start of the path to the bothy, but once I'd reached it, navigation was easy and I didn't need to worry too much about map reading. The terrain was quite rocky and a little tricky in places – I wouldn't fancy that walk in wet or icy conditions – but it didn't present too many problems, and it was a boost to my confidence to complete it without problems.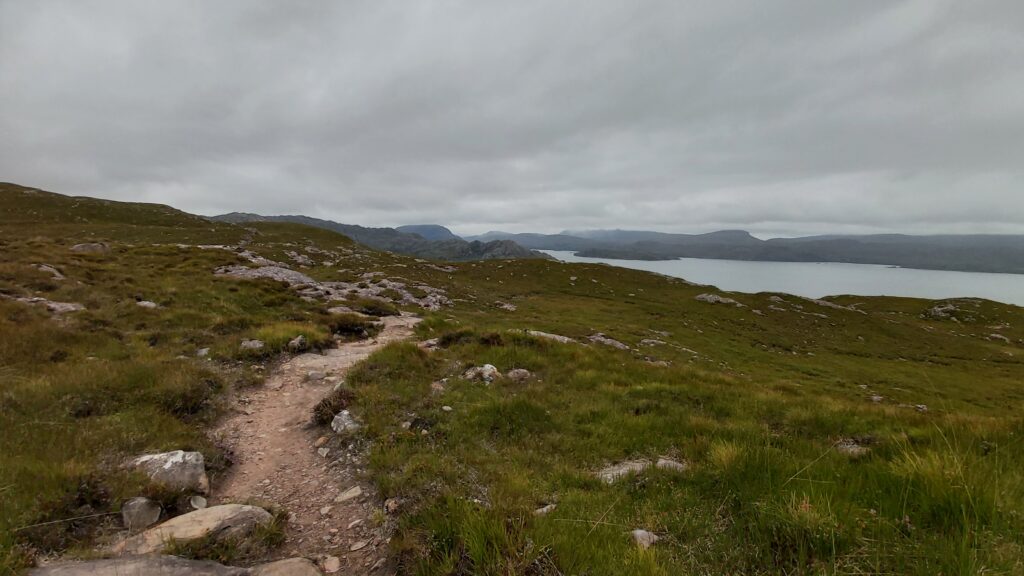 After negotiating the path around Lochan Dubh, the bothy finally came into view, down in the Craig River valley. First sight of a new bothy is always an adrenaline rush, and after so long away, I was thrilled to see it. I also spotted people going in and out, so it looked like I'd have company. That triggered the slightly apprehensive feeling of who they were and what they would be like, but thankfully I was reasonably lucky, and I had some good company for my first night.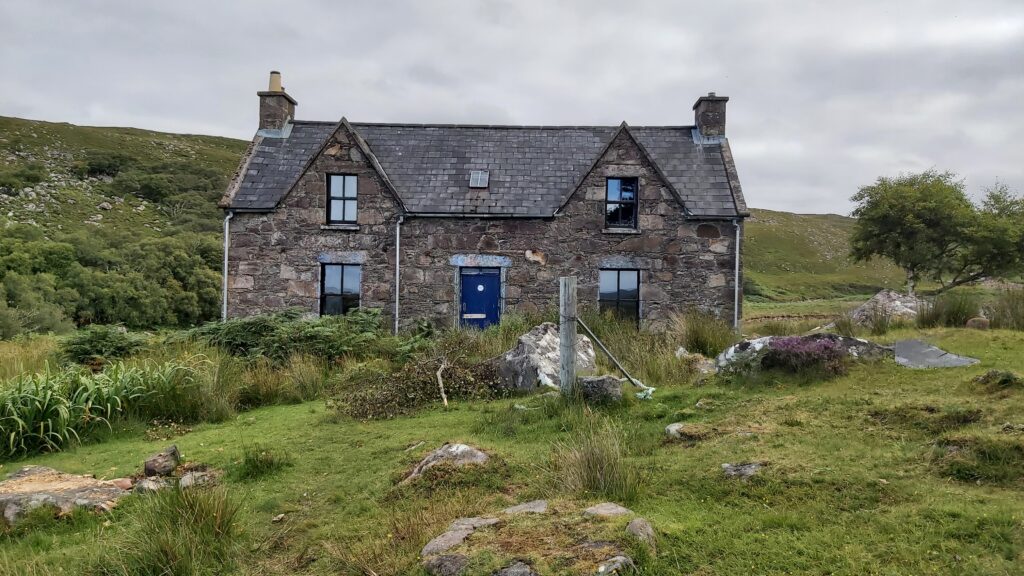 Exploring the bothy when I got there was great fun. It's comfortable and large as bothies go, even having real beds in it. The communal space was cheery and welcoming, and an evening by the stove was very pleasant. After my long drive, I was happy to sit down with some food and wine, and relax in the spectacular surroundings. It was a little gloomy and cloudy on that first night, but it was clear that the area offered rich pickings for exploring, with a useful map on the wall showing paths to the beach and river.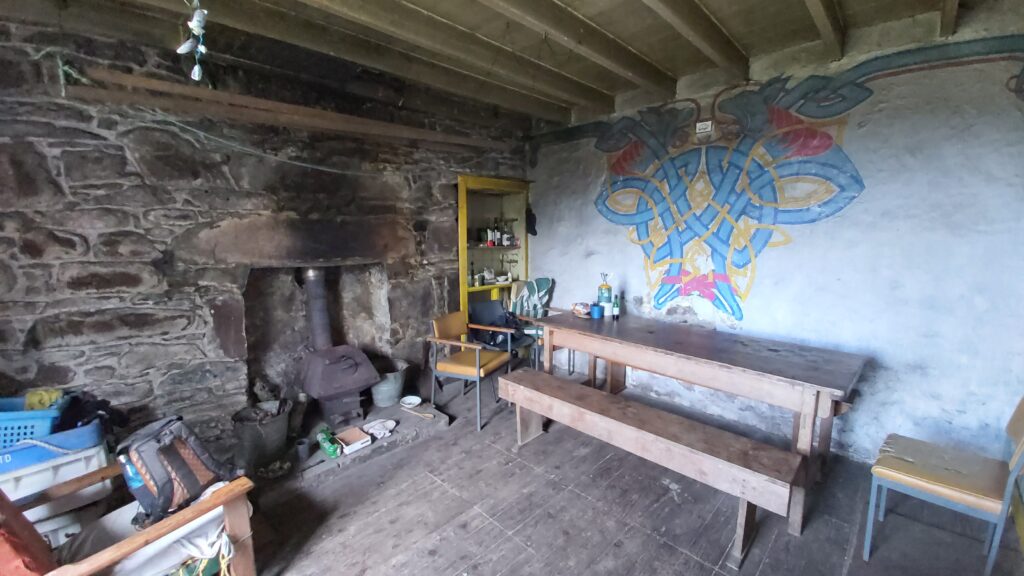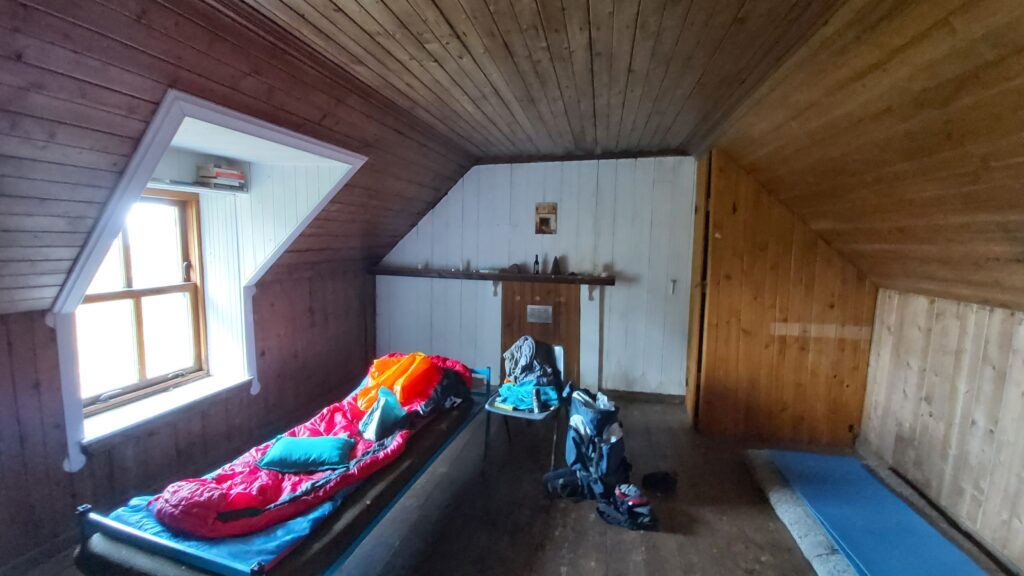 I had a pretty good sleep on that first night, and in the morning, once the others had left, I had the place to myself, and revelled in the peace and quiet. I took a walk down to the beach, where I spent a good few hours exploring, resting, reading and having a spot of lunch, before heading back to the bothy to relax for a bit. A dog walker from Torridon dropped in for a while, and we had a good chat. After she'd left, I didn't see anyone else for the rest of my stay. The afternoon and evening was spent pottering about taking photos, sitting by the fire with a book, and just feeling all the stresses and strains of recent life fall away.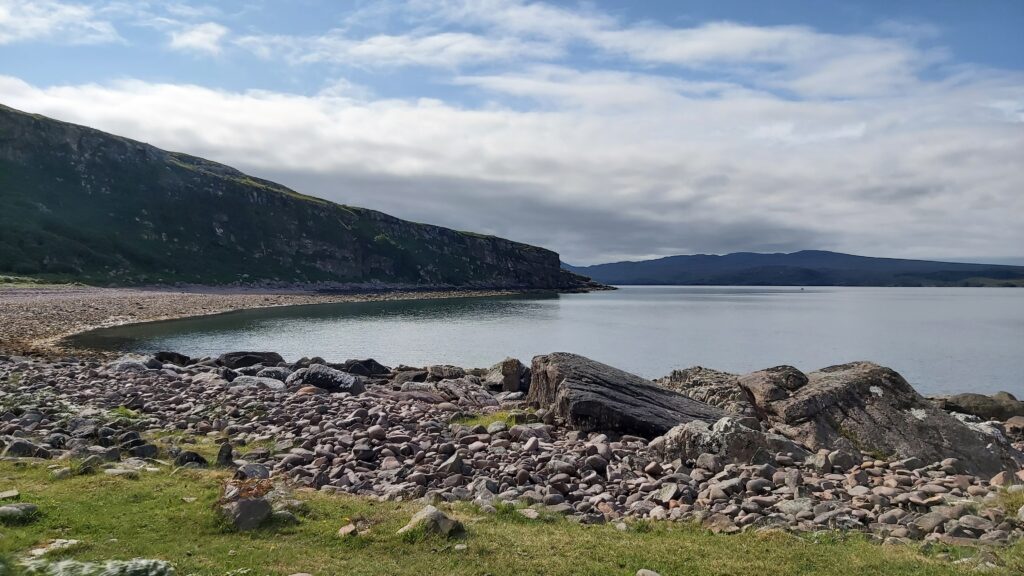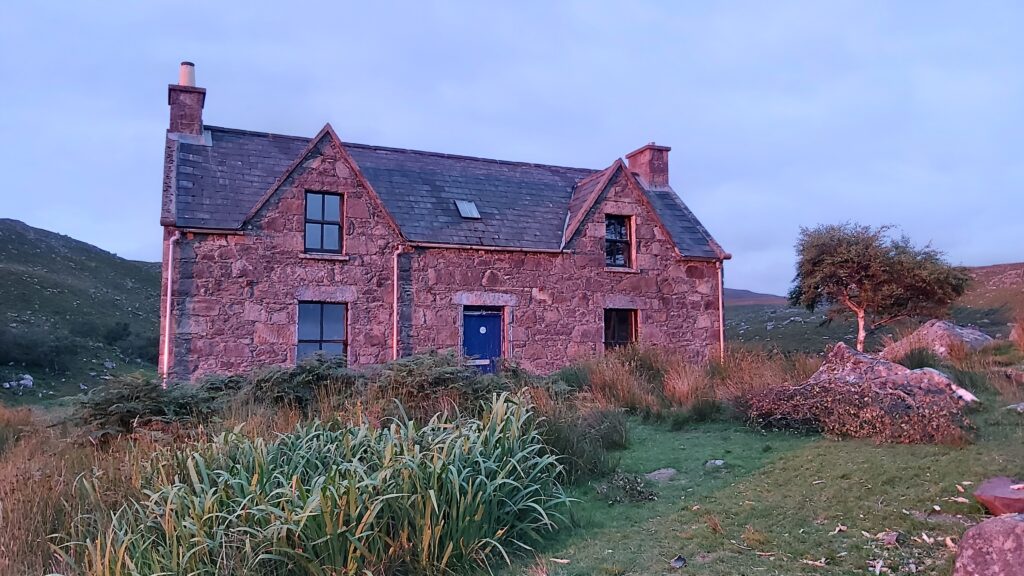 When I came to leave on the Friday morning, I was reluctant to go. I could easily have spent another night there, although my food and water situation was a bit less than ideal by then, and I had rather mundane things to return to and deal with at home. The hike back out went well again, and I spent plenty of time gazing out at the spectacular landscape. The terrain I was actually walking through was a little barren, but I appreciated the peace and the wonderful views across the water towards Skye.
All was well back at the car, and I was soon on the road. The drive felt pretty interminable and I was flustered and exhausted by the time I got home in the evening – I probably should have taken some more breaks. It showed I'd got out of the habit of doing this sort of thing. However, the trip overall was a huge success, and a triumphant return to bothying after a really unwelcome enforced break.
These simple shelters are a phenomenal resource, and I'm so grateful for them. In an increasingly money-grabbing and corporatised world, it seems miraculous that you can just show up at these places, and use them for nothing. Sure, they're not the most comfortable places in the world, but they're a welcome break on life's journey, places to rest, reflect, think, relax and recharge. It did me an incredible amount of good to return to a bothy after all this time.
I'll be back!